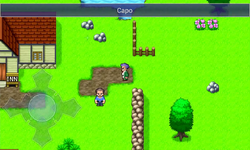 Capo (カーポの村, Kāpo no Mura?) is a fishing village in Final Fantasy Dimensions. The pirates close the port, preventing people from going fishing. There is rift in Capo that allows the party to be transported back to Dragon Roost.
Story
[
]
The Warriors of Light come to Capo on their quest to find a way to travel to other continents. Ricard tells them of a small village past the southern mountains that ships to other lands and with the help of Barbara and her dragon, the warriors make it to Capo. The villagers tell them that the pirates have closed the port and the warriors fight them and demanded them to reopen the port. The pirates claim it is not their decision to make and offer to take the warriors to meet their boss, and the Warriors and pirates head for the Pirate Hideout. If the Warriors come back to Capo, the port is now free and people are happy.

Enemies
[
]
Treasure
[
]
Shops
[
]
Items

[

]




Weapons

[

]

Armor

[

]
White Magic

[

]

Black Magic

[

]
The inn charges 150 gil per stay.
Gallery
[
]
Etymology
[
]