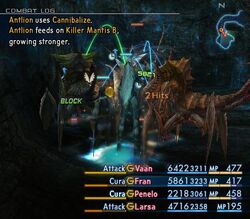 Cannibalize (捕食, Hoshoku?, lit. Prey Upon), also known as Devour, is a recurring enemy ability in the series.
Appearances
[
]
Horned Cripshay uses Cannibalize on the cripshays it fights with to replenish its health in "Episode INTERmission".
Cannibalize is an enemy ability used by Wild Saurian [a], Killer Mantis, Antares, Preying Mantis, Deathclaw, Scythe Mantis, Antlion, Rageclaw, and Biding Mantis. It kills one enemy within a range of 6 and absorbs its remaining HP as well as raising the user's own level by 20%, up to level 99.
Gallery
[
]