A mysterious man with an ominous presence clashes with Lightning, and later Noel and Serah. Caius makes for an intimidating sight as he bears down upon his enemies, brandishing his massive blade with ease. His icy exterior makes it impossible for others to read him, let alone approach him.

Official description
Paddra Ballad-Caius,[1] or Caius Ballad (カイアス・バラッド, Kaiasu Baraddo?) is the main antagonist of Final Fantasy XIII-2 who also appears in Lightning Returns: Final Fantasy XIII. Caius engages his fated rival, Lightning, in an endless battle in the realm of Valhalla, and follows Lightning's sister, Serah Farron, and his former protégé, Noel Kreiss, on their journey through time.
Caius was originally a Gran Pulse l'Cie charged with protecting the seeress Yeul as her Guardian.
In Lightning Returns: Final Fantasy XIII, Caius continues to serve as Yeul's Guardian, and he faces Lightning in battle once more.
His full name stands for "Caius of the Ballad clan, from the city of Paddra".
Datalog
[
]
Caius Ballad is the man Serah saw in her dream, fighting with Lightning. In 200 AF, he appears with Yeul in the village of Oerba, and attempts to administer justice for Serah and Noel's crime of changing history.
Noel seems to know this dark warrior, but is unsettled to have encountered Caius in that time period.
Caius Ballad is a former l'Cie and the immortal Guardian of the seeress, Yeul.
Everything this man has done for the past several centuries has been for the purpose of freeing his charge from her curse of eternal reincarnation. If he can kill the goddess and send the artificial Cocoon plummeting into Pulse, the resulting flood of volatile chaos through Etro's gate would shatter the boundary between Valhalla and the mortal realm. Life and death would cease to hold meaning, and Yeul's cruel fate would finally be undone. Or so Caius believes...
The man responsible for releasing the Chaos from the unseen realm and inviting the world's destruction. Immortal since ancient times, Caius served the seeress Yeul in her many incarnation. He vowed to save Yeul from the cruel cycle of endless death and rebirth.
Caius's plotting led to the downfall of the goddess Etro, and brought catastrophe. The unseen Chaos, released from Valhalla, now consumes the world.
He was defeated in his confrontation with Noel and he lost the heart, full of Chaos, which had kept him alive so long. He should have died then, and yet he appears once again. Are his crimes so great that even death will not take him?
Profile
[
]
Appearance
[
]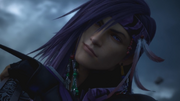 Caius is a tall, slender, muscular man with purple attire, hair and eyes. His long hair is adorned with feathers and tribal beads and is held back with a headband. His form-fitting suit of armor resembles Bahamut, and he wears dark boots lined with white fur. The Etro script on the back of his armor translates to: "Undying Witness of Infinite Fate." It is said the eye on the hilt of his sword is the eidolith capable of summoning Bahamut, an Eidolon gifted by the goddess Etro when he served as a l'Cie.
Caius can perform an incarnate summoning, which allows him to fuse with Bahamut and become Chaos Bahamut. Chaos Bahamut is darker than the regular Bahamut and always has the wings, whereas the regular Bahamut only displays them in Gestalt Mode.
In Lightning Returns: Final Fantasy XIII, Caius retains his original appearance.
Caius's sword was unnamed in Final Fantasy XIII-2. His sword appears in Final Fantasy Airborne Brigade, being simply called Caius's Sword.
Starting with Lightning Returns: Final Fantasy XIII, the weapon is named Chaos's Revenge.
Personality
[
]
Oblivion is the fate of all things.

Caius to Lightning
Caius is calm and serious, rarely displaying emotion, making it difficult to discern his thoughts and intentions. Noel describes Caius as someone who prefers to personally take action instead of having others do the dirty work for him, and says he is like "the calm before the storm," as he may remain silent until spotting a weakness in his enemies, and once he does, he will expose it without mercy. He isn't entirely above mocking or praising opponents, either, as he praises Lightning's prowess but also taunts her whenever she fails to push him back.
As his goal draws nearer, Caius becomes emotional, ultimately revealing himself as a man consumed by sorrow and rage over the centuries to the point that he plots to destroy time itself. He is impressed by Serah's determination to protect the future, and although he is dismissive of Noel's optimism and refusal to kill, Caius shows fondness towards the boy he had taken under his wing after seeing his potential, and praises Noel for his growth.
In Lightning Returns: Final Fantasy XIII, Caius no longer has a single-minded goal and has lost his drive and become cynical, reacting to Lightning and the world's condition with spite. He views his predicament as inescapable, and thus exists in a perpetual state of suffering. In the end he appears to have accepted his fate and embraces his duty of staying by Yeul's side.
Abilities
[
]
Gameplay
[
]
Final Fantasy XIII-2

[

]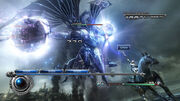 Even in his human form, Caius can cast powerful magic and use chaos to suit his needs. He can assume the form of Chaos Bahamut, and later that of Jet Bahamut. In his human form, Caius is fought by Serah and Noel five times: in Oerba 200 AF, the Void Beyond, A Dying World, Academia 500 AF, and Valhalla. As Chaos Bahamut, Caius is fought by Lightning in Valhalla in the prologue, and by Noel and Serah in Academia 500 AF. With the Paradox Scope activated, defeating Caius will trigger various paradox endings.
If the three battles against Caius activated by the Paradox Scope are counted separately from the six times he is fought during the story and during the "Requiem of the Goddess" DLC scenario, Caius holds the record of being the most recurring boss in a single Final Fantasy game, with a grand total of nine battles. The number increases to thirteen if one counts the four battles against Chaos Bahamut and Jet Bahamut. The second most recurring boss is Ormi from Final Fantasy X-2, with seven battles.
In the bestiary, Caius is listed under the section "Protector" rather than "Guardian."

Lightning Returns: Final Fantasy XIII

[

]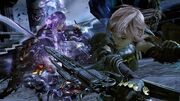 Caius is fought as a boss in the Temple of the Goddess on the Wildlands. He no longer turns into Chaos Bahamut, but can summon him like a regular l'Cie. Unlike the other main scenario bosses, Caius does not become more powerful if fought on a later day.

Musical themes
[
]
"Caius's Theme," composed by Naoshi Mizuta, is a prominent theme in Final Fantasy XIII-2, it and its variations playing whenever Caius appears. "Caius's Theme" is included in "Promise to the Future," "Endless Paradox," "Unseen Abyss", and the "Closing Credits."
The song is reused in Lightning Returns: Final Fantasy XIII. Variations of it are heard in "The Doomed Soul -Caius and Yeul-," the final boss theme "Almighty Bhunivelze" and the ending theme, "Credits ~Light Eternal~."

Other appearances
[
]
Caius has appeared in the following games throughout the Final Fantasy series:
Other media
[
]
Caius was voted as "Best Villain" in Game Informer's 2012 RPG of the Year Awards.[3]
Behind the scenes
[
]
Caius's armor was designed by Yusuke Naora, who also designed Serah's and Noel's outfits. Naora's design was chosen after several designs from various members of the development team were drawn and compared to select the best one (similar to Mog).[4]
According to lead writer, Daisuke Watanabe, Caius is a unique villain in the Final Fantasy series due to his main objective being to save Yeul, as opposed to trying to destroy the world. Thus Caius doesn't necessarily appear as a "bad" person, and he was made to come across as a bewildering enemy to players.[5]
According to director Motomu Toriyama, Caius is the strongest (in terms of abilities) antagonist of the Final Fantasy series.[6] The eternal battle between Caius and Lightning in Valhalla mirrors the conflict between warriors of light and chaotic forces seeking to reduce the world to oblivion present throughout the Final Fantasy series: the names Caius and Lightning also recall Chaos and Light.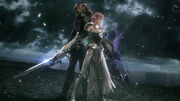 During a scene in the Void Beyond, Caius and Serah are seen back to back, similar to a scene featuring him and Lightning during their battle in Valhalla, and also to his debut appearance in the game's first trailer. Caius freezing time while fighting Serah is reminiscent of the fight between Squall and Ultimecia in Dissidia Final Fantasy. Caius putting Yeul to rest in the ocean in Valhalla at the start of Final Fantasy XIII-2 mirrors the scene where Cloud rests Aerith in the lake in the Forgotten City in Final Fantasy VII. Caius also shares traits with Ardyn Izunia, the main antagonist of Final Fantasy XV. Both were saviors to their people in their past chosen by gods, both became immortal and viewed their existence as a curse, and both sought to destroy the world to be free and to exact revenge on those they felt had wronged them.
Some people in Academia 4XX AF claim they've seen "a man in black armor and a girl with green eyes" on the city's outskirts, referring to Caius and Yeul. A boy who claims this says the man must be "a bad guy," as only bad guys wear black. When asked if Hope knows Caius in a Live Trigger scene in the Yaschas Massif 1X AF, he recalls reading about a man with the name of Paddra Ballad-Caius.

Voice
[
]
Caius is voiced by Liam O'Brien in English. He shares his voice actor with Red XIII from the Compilation of Final Fantasy VII, Kain Highwind from the 3D remake version of Final Fantasy IV and Dissidia 012 Final Fantasy, Cu Chaspel from Final Fantasy Crystal Chronicles: Ring of Fates, and Nobutsuna Kamiizumi from Bravely Default.
He is voiced by Hiroshi Shirokuma in Japanese.
Gallery
[
]
Final Fantasy XIII-2
Lightning Returns: Final Fantasy XIII
Etymology
[
]
Caius is an alternate spelling of Gaius. [view · edit · purge]Gaius is a common Roman given name. It was a praenomen of many famous Romans throughout history, including Julius Caesar, and through his line, Augustus Caesar and Caligula, Gaius Cassius Longinius (a leading conspirator in Julius Caesar's assassination), and Gaius Cornelius Tacitus, the famous historian.
It may also be derived from Greek word Gaia, which means "earth." Coincidentally, an antagonist from Final Fantasy XIV uses this alternative spelling.
Caius's name means "to be sorry" in Russian (Я каюсь).
The name Caius could be a direct or indirect reference to "chaos" for reasons related to his persona and/or attacks.
Caius's last name, Ballad, could come from ballade. [view · edit · purge]A ballade is "a poem normally composed of three stanzas and an envoi. The last line of the opening stanza is used as a refrain, and the same rhymes, strictly limited in number, recur throughout".
References
[
]