Burbost Souvenir Emporium is a small outpost near the Callatein Falls waterfall in Cleigne in Final Fantasy XV. It has a shop and a caravan. The player can easily park here and then take the steps down from the road to visit the Callatein's Plunge waterfall and the Greyshire Glacial Grotto.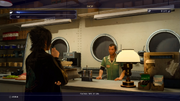 The shop at Burbost Souvenir Emporium is simply called "Burbost Souvenir Emporium". It is one of the few shops that sells monster parts as treasures. It has a cookbook for Ignis. Noctis's fishing level doesn't affect the price of leisure goods.
Items
[
]
Quests
[
]
Holly's quest
[
]
In Chapter 8, Holly Teulle will hire Noctis and his friends for various quests for EXINERIS Industries. One of them is to inspect the floodlights set up at outposts that keep daemons at bay at night. One of the light installments is at Burbost, but it is working as intended when Noctis inspects it.
New recipes
[
]
The player can purchase Iron Shelf Recipes Vol. 3 at the shop to learn Taelpar Harvest Galette.
Gallery
[
]