Buer (ブエル, Bueru?), also known as Buel, is a recurring enemy in the series.
Appearances
[
]
Buel is an enemy fought at Fire Cavern, Tomb of the Unknown King, Balamb Garden (MD Level), Centra Ruins (Upper floors), Deep Sea Research Center (Top level), and Ultimecia Castle (Main Hall, Clock Tower, and Art Gallery). It primarily attacks with elemental magic, and at higher levels has access to Reflect and Death, but is otherwise an exceptionally weak foe.

Buer is an enemy fought at Thunder Plains. It attacks using only its Stare ability, which can inflict Confuse at a very low rate, but otherwise is not a difficult foe to defeat.

Buer is an enemy fought at Zertinan Caverns. It is a troublesome foe as it has access to Haste and Leech, in addition to Blizzara and Shock Wave.

Buer is a boss that appears in the revamped Diadem introduced in patch 3.55b.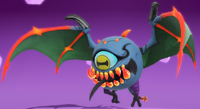 Buer are a type of Mirage from the Floating Eye group. They can be transfigured from a Blood Eye or switched from an Ahriman board after acquiring the Buer Memento.
Buer is a boss in The Crystal Tower.

Gallery
[
]
Etymology
[
]
[view · edit · purge]In the 16th-century grimoire known as Pseudomonarchia Daemonum, Buer is described as the president of Hell, with fifty legions of demons at his disposal.