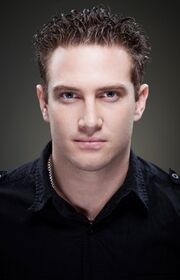 Bryce Papenbrook (born February 24, 1986) is an American voice actor. He voices Zidane Tribal in Dissidia Final Fantasy and Dissidia 012 Final Fantasy, Tiz Arrior in Bravely Default and Bravely Second: End Layer, and Machina Kunagiri in Final Fantasy Type-0 HD.
He is best known for voicing Kazuto Kirigaya (Kirito) in the Sword Art Online series, Shirou Emiya in the Fate/stay night: Unlimited Blade Works series, Eren Jaeger in Attack on Titan, Red in Pokémon Origins, Rin Okumura in Blue Exorcist, Eugene Sevenstark in Mobile Suit Gundam: Iron-Blooded Orphans, adult Asbel Lhant in Tales of Graces ƒ, Makoto Naegi and Nagito Komaeda in the Danganronpa franchise and Henry in Fire Emblem Awakening. He also voiced Masaomi Kida from the series Durarara!!, a project by Square Enix.
Community content is available under
CC-BY-SA
unless otherwise noted.