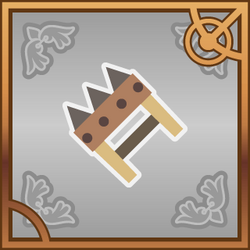 Created before the development of weapons, boxing is the most primitive form of fighting. Later, as fighting for sport became increasingly more popular, a more systemized way of boxing was established. This naturally led to the creation of equipment meant to protect competitors' fists in battle as they began to use more power in the ring. The bronze knuckles are an example of this equipment, and although fairly easy to use, do not deal a great amount of damage.
Bronze Knuckles (ブロンズナックル, Buronzu Nakkuru?) are recurring Knuckles in the series. They are often weak knuckles, providing very little attack and no special effects.
Appearances
[
]
Bronze Knuckles are the weakest knuckles, found exclusively in the 3D remakes. They provides 12 Attack, and can only be equipped by the Onion Knight, Freelancer, Monk, and Black Belt. They can be found in Altar Cave and Castle Sasune.
Bronze knuckles are a hand-to-hand weapon that provides +2 damage, +96 Delay, and +2 Accuracy. They deal +0.42 damage per second and accumulate +7 TP per hit. They can be equipped by level 5 Warrior, Monk, Red Mage, Thief, Paladin, Dark Knight, Beastmaster, and Dancer. They can be bought for 224 - 253 gil from Ciqala in Bastok Markets and Amulya in the Metalworks.
Bronze Knuckles are low-level
Knuckles for
Pugilists. They can crafted by
Blacksmiths; bought in Limsa Lominsa, Gridania, Ul'dah, and Western Thanalan; or received as a potential reward from battlecraft levequests in Western Thanalan.
Bronze Knuckles

Pugilist's Arm
PGL MNK Lv. 12
Item Level 12
Physical Damage: 9 ( 10)
Auto-attack: 7.2 ( 8)
Delay: 2.4
Repair/Melding/Desynthesis:
Blacksmith
Dyeable: No
Bronze Knuckles are Fist weapons that can be bought for 100 gil at Royal Capital Grandshelt and Port City Lodin, crafted using 40 gil and x3 Copper Ores, and found in Town of Mitra. They provides 16 ATK.
Non-Final Fantasy guest appearances

[

]
Knuckles made of bronze.

Description
The Bronze Knuckle appears as 2-handed knuckles within the Forsaken Dungeon. They provides 10 Weapon Atk and 4 Durability.
Gallery
[
]