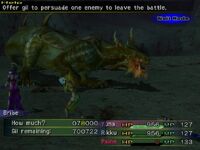 Bribe is a special skill in Final Fantasy X and Final Fantasy X-2.
In Final Fantasy X Bribe is most commonly attributed to Rikku, as she is the character that starts out closest to the skill on the Sphere Grid, and often acquires it first, but as with any ability any character can activate it. Providing the party has enough resources, bribing is the easiest way to receive multiple amounts of rare items all at once.
The skill returns in Final Fantasy X-2 as a command ability for the Lady Luck Dressphere.
Bribe shows up as an option in the Special menu in battle after a character has activated the appropriate node on the Sphere Grid. The player chooses the amount of gil to hand over. Used in combat, Bribe allows the character a chance to convince the targeted enemy to leave the battle and possibly leave behind some of its rarer treasures in exchange. The more money is given, the better the chance is that it will work. The amount of money needed is calculated from the fiend's max HP.
x10 Max HP = 25%
x15 Max HP = 50%
x20 Max HP = 75%
x25 Max HP = 100%
Sleeping enemies cannot be bribed and the gil used is wasted. If the enemy does not accept the Bribe, the money is not wasted, and one should try bribing again on the next turn for 1 gil and repeat offering 1 gil until the fiend accepts and leaves combat. This way the player can get away with offering the lowest amount of money needed (10x the fiend's max HP) in order for the Bribe to work.
Appearances
Item
Enemy
Amount From Bribe
Gil Needed to Bribe
Al Bhed Potion
Mech Defender
Mech Gunner
Mech Hunter
x99
x40
x60
174,000
56,000
110,000
Amulet
Tonberry
x2
270,000
Arctic Wind
Snow Flan
White Element
x10
x7
12,000
7,800
Attribute Sphere
Maelspike
x1
200,000
Black Magic Sphere
Black Element
x2
152,000
Bomb Core
Bomb A
Red Element
x16
x8
17,000
9,000
Chocobo Wing
Machea
x60
360,000
Dark Matter
Land Worm
x2
1,600,000
Designer Wallet
Defender Z
x5
846,000
Door To Tomorrow
Mech Leader
Mech Scouter
x2
x1
74,000
55,000
Dragon Scale
Splasher
x4
4,000
Dream Powder
Bandersnatch
Skoll
x20
x12
36,000
20,000
Elixir
YKT-11
YKT-63
x12
x8
124,000
84,000
Ether
Guado Guard A
YAT-97
YAT-99
x10
x16
x10
40,000
74,000
54,000
Farplane Wind
Ahriman
Epaaj
Wraith
x6
x25
x60
56,000
174,000
444,440
Fire Gem
Bomb B
Flame Flan
Grenade
x14
x10
x12
44,000
30,000
150,000

Friend Sphere
Coeurl
x2
120,000
Gambler's Spirit
Floating Death
x10
134,000
Gold Hourglass
Mushussu
Nidhogg
x5
x12
13,600
40,000
Grenade
Mech Guard
x50
25,600
Healing Spring
Achelous
Octopus
Phlegyas
x16
x20
x6
102,000
90,000
33,600
Healing Water
Anacondaur
x16
116,000
Hi-Potion
Dual Horn A
x60
37,500
Hypello Potion
Bunyip
Murussu
Mafdet
Raldo
Shred
x16
x24
x28
x9
x50
8,000
11,600
14,200
4,800
39,000
Ice Gem
Ice Flan
x9
27,000
Lv.1 Key Sphere
Imp
x4
17,600
Lv.2 Key Sphere
Behemoth
x30
460,000
Lv.3 Key Sphere
Demonolith
x40
900,000
Lv.4 Key Sphere
Chimera Brain
x2
196,000
Lightning Marble
Aerouge
Gandarewa
Gold Element
Thunder Flan
Yellow Element
x4
x3
x20
x8
x6
4,000
2,960
24,000
9,600
6,000
Mana Tablet
Chimera A
x10
105,000
Mana Tonic
Gemini (Blue)
x10
720,000
Megalixir
Varuna
Xiphos
x20
x1
1,120,000
54,000
Mega Phoenix
Alcyone
Ghost
x2
x38
86,000
199,980
Mega-Potion
Dual Horn B
Grendel
x25
x60
75,900
190,000
Musk
Buer
Evil Eye A
Evil Eye B
Floating Eye
x2
x3
x4
x1
4,600
6,200
8,600
2,800
Pendulum
Master Tonberry
Ultima Weapon
x3
x99
960,000
1,400,000
Petrify Grenade
Basilisk
Cave Iguion
Dinonix
Iguion
Ipiria
Melusine
Raptor
Yowie
x24
x6
x2
x5
x3
x4
x2
x12
40,500
11,000
2,800
7,400
3,600
5,300
4,000
18,800
Poison Fang
Bite Bug
Killer Bee
Nebiros
Wasp
x2
x1
x6
x3
4,000
2,200
14,000
7,200
Remedy
Grat
Lord Ochu
Ochu
Ragora
Sandragora
x40
x80
x70
x8
x99
80,000
92,980
144,000
15,600
255,000
Rename Card
Zaurus
x10
157,000
Return Sphere
Dark Element
Mandragora
x3
x24
36,000
620,000
Shining Gem
Puroboros
x36
400,000
Shining Thorn
Larva
x10
29,960
Silence Grenade
Bat Eye
x12
7,600
Silver Hourglass
Kusariqqu
Lamashtu
Vouivre
x20
x10
x10
8,900
5,500
5,100
Sleeping Powder
Dingo
Garm
Mi'ihen Fang
Sand Wolf
Snow Wolf
x4
x7
x5
x12
x11
2,500
4,800
3,200
9,000
8,000
Smoke Bomb
Condor
Garuda
Simurgh
x3
x99
x5
1,900
80,000
4,000
Special Sphere
Adamantoise
x6
1,088,000
Stamina Spring
Bashura
x80
340,000
Stamina Tablet
Defender
Ogre
x20
x50
240,000
188,000
Stamina Tonic
Iron Giant
Gemini (Red)
x1
x10
72,000
720,000
Supreme Gem
Halma
x20
260,000
Teleport Sphere
Barbatos
x20
1,900,000
Three Stars
Behemoth King
x14
1,350,000
Twin Stars
Spirit
x10
200,000
Underdog's Secret
Chimera B
x15
180,000
Warp Sphere
Master Coeurl
x1
260,000
Water Gem
Aqua Flan
Blue Element
Maze Larva
Piranha
Remora
Sahagin A
Sahagin B
Sahagin C
Water Flan
x15
x4
x14
x1
x20
x8
x3
x2
40,500
30,000
44,440
1,000
60,000
27,600
7,600
6,300
White Magic Sphere
Dark Flan
x2
256,000
Wings to Discovery
Great Malboro
Malboro
x7
x4
1,280,000
540,000
Winning Formula
Sand Worm
x15
900,000
X-Potion
Guado Guardian C
Valaha
x30
x60
52,000
174,000
NOTE - For the Enemy table, if there is no ( ) beside an enemy name, it indicates that the bribed item is both the common and rare bribe of the enemy when in Normal state. If (Oversoul) or (Normal & Oversoul) appears beside an enemy name, it indicates that the item is both the common and rare bribe of that particular state. If only (Rare) or (Common) appears, it is for the Normal form of the listed monster.
For values in the Amounts column, the first value will be the Common amount, and the value in parenthesis will be the Rare amount. Values before the slash are for monsters in normal state, while values after the slash are for monsters in Oversoul.
For values in the last column, values outside of parenthesis are for Normal, and values inside parenthesis are for Oversoul.
The formula for a successful Bribe for Final Fantasy X-2 is as follows:
  Bribe formula: ([Fiend's MAX HP x 6.25] = Bribe amount needed) 

The amount of items received from a successful Bribe depends greatly on how much Gil you bribe the enemy with. The more Gil given to an enemy, the more items you'll get. There is also another way to bribe an enemy, without spending any Gil, through the use of the Lady Luck ability Slots. By getting 3 7s, you'll automatically use the CONGRATS! skill, which bribes the enemy without using any Gil, and instead you'll gain Gil, as well as EXP and Items after battle as though you defeated the enemy.
Item
Enemy
Amount From Bribe
Gil Needed to Bribe
Angel Earrings
Barong
Coeurl (Oversoul)
King Takouba
1 (2)
1 (2)
1 (6)
10,932
5520
72,025
Antarctic Wind
Flan Palido
8
800
Antidote
Agama (Normal & Oversoul)
Boris (Common only)
Divebeak (Common only)
Gecko
12 (15)/60 (70)
30
40
30 (40)
532 (2,128)
2,000
40
912
Arcane Lore
Black Elemental (Normal & Oversoul)
1/(2)
39,996 (43,392)
Arcane Tome
Elder Drake (Normal Rare & Oversoul)
4/10 (12)
154,000 (169,400)
Beaded Brooch
Flailing Ochu
Malboro (Oversoul)
1
1
40,250
24,684
Black Choker
Ochu
1
6,500
Black Lore
Adamantortoise (Normal Rare)
Aeshma (Rare)
Aranea (Common)
Amorphous Gel (Normal & Oversoul)
Dolmen (Rare)
3
1
5
1/1 (2)
1
58,320
35,152
73,150
21,280
26,750 (66,800)
Black Ring
Sand Worm
Shell Shocker
Stalwart (Oversoul Rare)
1 (3)
1 (2)
1
50,888
18,800
5,248
Black Tome
Aranea (Normal Rare & Oversoul)
Claret Dragon (Oversoul)
Critical Bug (Normal Rare & Oversoul)
8/10 (16)
1 (2)
2/2 (3)
73,150 (133,600)
72,744
228,936 (240,384)
Blind Shock
Shantak (Oversoul)
Zu
1
1 (3)
4,748
37,352
Blue Ring
Amorphous Gel
Dinictus (Common)
Tentacles (Common)
1
1
1
3,892
7,500
10,120
Bomb Core
Red Elemental (Rare)
4
396
Bomb Fragment
Red Elemental (Common)
4
396
Budget Grenade
Goon (Common)
Quadricorn
She-Goon (Common)
1
20 (24)
1
52
802
28
Bushido Lore
Lacerta (Normal & Oversoul)
Sand Worm (Oversoul)
1 (2)/4 (6)
1 (2)
48,296 (54,224)
82,232
Bushido Tome
Concherer (Normal Rare, Oversoul)
30/30 (40)
1,373,120 (1,541,776)
Candle of Life
Detonator
Takouba
80 (99)
30 (40)
7,440
4000
Cerulean Ring
Dinictus (Rare)
Protean Gel (Oversoul)
Sahagin Chief (Normal & Oversoul)
Tentacles (Rare)
Xiphactinus (Oversoul)
1
1
2 (3)
1
1
7500
9332
39,250 (52,373)
10,120
11,568
Champion Belt
Gigas
1
9160
Chocobo Feather
Anole (Oversoul Common)
12
11,000
Chocobo Wing
Anole (Oversoul Rare)
Killer Hound (Oversoul Rare)
Tindalos
Wild Wolf (Oversoul)
14
4 (5)
20 (30)/30 (40)
3 (4)
11,000
3,272
13,300 (29,320)
5,648
Crimson Ring
Balivarha (Rare)
Flame Dragon (Oversoul Rare)
Flan Rojo (Oversoul)
Lesser Drake (Oversoul)
Nashorn (Oversoul Rare)
Volcano (Common)
Zalamander
1
4
1
1
1
2
2 (3)
14,752
7532
12,200
8432
7712
24,840
51,750
Crystal Ball
Dark Elemental (Oversoul)
2 (3)
4000
Crystal Bangle
Balivarha (Oversoul)
Earth Worm (Oversoul)
1
8 (10)
35,032
210,200
Dark Matter
Paragon (Normal & Oversoul)
10 (20)/24 (30)
800,000 (840,000)
Defense Bracer
Adamantoise (Oversoul)
Adamantortoise (Oversoul)
Ultima Weapon (Normal Common)
1 (2)
2 (8)
8
32,972
103,250
137,200
Dispel Tonic
Anole
Varan
Zurvan
20 (24)
24 (30)
10 (12)
2936
4528
2332
Dragonfly Orb
Deep Haizhe
1
4120
Electrocutioner
Rhyos
1
17,500
Electro Marble
Yellow Elemental (Common)
1
48
Elixir
Barong (Oversoul)
Grim Gaze (Oversoul)
King VERMIN! (Oversoul)
Vertigo (Oversoul)
5 (6)
4
24 (30)
2
27,732
17,000
167,400
9408
Ether
Divebeak (Normal Rare & Oversoul)
Flan Azabache (Common)
League Master
League Ranger (Rare)
League Slasher
Queen Coeurl
Tonberry
Yevon Striker
1
99
12 (14)
1
16 (20)
30 (40)
99
12
40 (288)
30,920
6928
920
6600
13,080
40,000
6920
Eye Drops
Ahriman (Rare)
Bully Cap (Common)
2
10
396
400
Faerie Earrings
Epitaph
Flailing Ochu (Oversoul Common)
Ochu (Oversoul)
Tomb
Vespa (Oversoul)
4 (5)
1
2 (3)
1
1
69,732
98,750
16,000
19,280
11,032
Farplane Shadow
Coeurl
8 (10)
1380
Fiery Gleam
Lesser Drake
1
2750
Fire Gem
Bomb
Flame Dragon
Flan Rojo
Protochimera (Common)
Red Elemental (Oversoul)
3 (4)
30 (40)
12 (14)
2
6 (8)
650
4500
4880
1680
1464
Fish Scale
Flan Azul
Sahagin
2 (3)
3 (4)
220
300
Glass Buckle
King Takouba (Oversoul)
10 (12)
88,416
Gold Hairpin
Blue Elemental (Oversoul)
Great Haunt
1
3
3152
33,932
Grenade
Bandit
Iron Giant
Mr. Goon (Common)
Ms. Goon (Common)
3 (4)
20
2
2
528
888
480
320
Gris-Gris Bag
Dolmen (Common)
2
21,280
Haste Bangle
Archaeothyris (Oversoul)
Canis Major (Oversoul)
Lupus (Oversoul)
2 (3)
1
2 (3)
12,920
9900
13,820
Hi-Potion
Aquila
Canis Major
Killer Hound
Leucophylla
Nashorn
Wild Wolf
20 (24)
8 (10)
2
40 (60)
6
4 (5)
7588
3772
808
8936
1928
1512
Hypno Crown
Behemoth
Flan Blanco
1
1
5680
2500
Ice Gem
Flan Palido (Oversoul)
White Elemental (Normal & Oversoul)
6 (8)
1 (2)/8 (10)
3404
308 (1232)
Kaiser Knuckles
Anything Eater (Oversoul)
Gigas (Oversoul Rare)
Gug (Oversoul Rare)
1
1
1
147,920
37,500
25,792
Kinesis Badge
Deep Haizhe (Oversoul)
Haizhe (Oversoul)
1 (2)
1 (2)
16,476
10,448
L-Bomb
Hexapod (Normal & Oversoul)
League Veteran
16 (20)/40 (99)
14 (20)
11,220 (44,880)
6880
Lag Shock
Aka Manah
1

25,288
Light Curtain
Armet
Bicocette
Sallet
16 (20)/1 (6)
3 (6)/12 (16)
1 (2)/4 (6)
3152
728 (2952)
240 (992)
Lightning Gem
Flan Amarillo
Gold Elemental (Normal & Oversoul Common)
3 (4)
2/(4)
1212
336 (1584)
Lightning Gleam
Bolt Drake
Pairika
1
1
2500
4520
Lightning Marble
Yellow Elemental (Normal Rare & Oversoul)
1/(2)
48 (200)
Lunar Curtain
Barbuta
12 (15)
2248
M-Bomb
Dr. Goon (Rare)
Fem-Goon (Rare)
Hug Bug (Normal & Oversoul)
League Raider (Rare)
League Trooper (Rare)
League Warrior
4
4
16 (20)/40 (99)
2
2
5
928
668
9400 (37,600)
712
976
1688
Mana Spring
Jahi
30 (40)
8132
Megalixir
Earth Worm
5 (20)
144,932
Mega Phoenix
Ahriman (Oversoul)
Blackguard
Coyote (Oversoul)
Quadricorn (Oversoul)
Ruffian
Rukh (Normal & Oversoul)
Tentacles (Oversoul)
1 (2)
1 (2)
1
2
3
30 (35)/30 (40)
16 (20)
1734
3040
1184
3008
5920
51,400 (66,000)
40,480
Mega-Potion
Elder Drake (Common)
League Scout (Rare)
Peregrine (Oversoul)
99
1
8 (10)
154,000
512
13,000
Moon Bracer
Bascinet (Oversoul)
1
13,500
Mythril Bangle
Iron Giant (Oversoul)
1
932
Nature's Lore
Humbaba (Normal & Oversoul)
1 (2)/1
111,088 (121,000)
Nature's Tome
Mushroom Cloud (Normal Rare & Oversoul)
1 (2)
39,996 (53,992)
NulBlaze Ring
Balivarha (Common)
Flame Dragon (Oversoul Common)
Greater Drake
Nashorn (Oversoul Common)
1
1
1
1
14,752
7532
7276
7712
NulFrost Ring
Spine Drake
1
10,328
NulShock Ring
Bolt Drake (Oversoul Common)
Flan Amarillo (Oversoul)
Protochimera (Oversoul Common)
1
1
1
11,000
4688
6720
Oath Veil
Guardian Beast (Normal & Oversoul)
1 (2)
11,544 (16,120)
Ochre Ring
Behemoth (Oversoul)
Bolt Drake (Oversoul Rare)
1
1
5964
11,000
Phoenix Down
Coyote
Fly Eye (Oversoul)
Goon (Rare)
Hrimthurs
League Fighter
League Scout (Common)
League Soldier (Common)
Peregrine
She-Goon (Rare)
Wild Wolf (Normal & Oversoul)
Yevon Defender (Common)
Yevon Guard
6 (7)
60 (80)
6 (8)
12 (16)
10
16 (24)
36 (40)
1
12 (16)/30 (40)
446
4128
52
2208
672
512
1172
3000
28
740 (2960)
892
744
Poison Fang
Aculeate(Common)
Wasp Queen (Normal & Oversoul)
8
99/99
932
29,800
Potpourri
Big Bully Cap (Normal & Oversoul)
1 (2)/3 (4)
19,520 (20,496)
Power Gloves
Gigas (Oversoul Common)
Gug (Common)
Hrimthurs (Oversoul)
1
1
1
37,500
25,792
8832
Pretty Orb
Boris (Rare)
Haizhe
1
1
2000
2612
Red Ring
Bomb (Oversoul)
Protochimera (Rare)
1 (2)
1
3000
1680
Regal Crown
Flan Blanco
Mushroom Cloud (Common)
1
7
2500
39,996
Remedy
Ahriman (Common)
Bully Cap (Normal Rare & Oversoul)
Cephalotus (Oversoul)
Death Dauber (Normal Common & Oversoul)
Elder Zurvan
Fly Eye
Gecko (Oversoul)
Leucophylla (Oversoul)
Malboro
Purpurea (Normal & Oversoul)
Skink (Normal & Oversoul)
Vespa
1
1/(2)
80 (99)
2/2
99
1 (2)
4
80 (99)
40 (60)
1 (2)/4 (5)
4 (5)/15 (18)
5 (6)
396
400 (1504)
27,000
400 (1248)
30,080
1032
1750
35,744
23,508
784 (3136)
3750 (9350)
3932
Ribbon
Flailing Ochu (Oversoul Rare)
Omega Weapon (Common Rare & Oversoul)
Ultima Weapon (Common Rare & Oversoul)
1
1
1 (3)
98,750
96,800 (101,640)
137,200 (270,060)
Rune Bracer
Flan Blanco (Oversoul)
1
8500
S-Bomb
Creeper (Normal & Oversoul)
Dr. Goon (Common)
Fem-Goon (Common)
League Raider (Common)
League Ranger (Common)
League Trooper (Common)
Mr. Goon (Rare)
Ms. Goon (Rare)
16 (20)/40 (99)
4
4
2
2
2
2
2
7896 (31,584)
928
668
712
920
976
480
320
Safety Bit
Daeva
Monolith
Takouba (Oversoul)
1
2 (3)
1 (2)
12,920
28,572
15,744
Shadow Gem
Stalwart (Normal, Oversoul Common)
30 (40)/(30)
4960 (5248)
Shining Bracer
Gemini (Oversoul)
Heavy Sallet
2
2 (3)/2 (3)
8184
44,800 (55,000)
Shining Gem
Ironside (Normal & Oversoul)
16 (20)/30 (40)
33,800 (48,616)
Short Circuit
Dinictus (Oversoul)
Protean Gel (Oversoul Rare)
Protochimera (Oversoul Rare)
2
1
1
31,200
9332
6720
Silver Glasses
Death Dauber (Rare)
Grim Gaze
Shantak
Vertigo
1
1
1
1
400
6880
4520
3464
Snow Ring
Spine Drake (Oversoul)
1 (2)
35,304
Soul of Thamasa
Detonator (Oversoul)
Volcano (Normal Rare & Oversoul)
1
4 (6)
28,680
24,840 (43,360)
Soul Spring
Lich
Wight
16 (18)
18 (24)
13,776
17,112
Stamina Spring
Taromaiti
60 (99)
7128
Star Bracer
Barbuta (Oversoul)
1
8576
Star Pendant
Assassin Bee (Normal & Oversoul Common)
Archaeothyris
Boris (Oversoul)
Haunt
Mycotoxin (Normal & Oversoul)
1/3
1 (2)
1
1
1/3 (4)
3104 (7360)
5328
3500
3252
3240 (12,960)
Stone Shock
Gucumatz (Normal & Oversoul)
Kukulcan (Normal & Oversoul)
1/6 (8)
1/4 (6)
14,880 (55,280)
11,472 (40,000)
Sublimator
Claret Dragon
Greater Drake (Oversoul)
Zu (Oversoul)
2 (3)
2 (3)
1 (2)
69,300
26,632
43,220
Supreme Gem
Chac (Normal & Oversoul)
3 (6)/10 (12)
1,751,400 (1,838,972)
Sword Lore
Mega Tonberry (Normal & Oversoul)
Tonberry (Oversoul)
3 (4)/6 (8)
3 (4)
194,400 (204,120)
162,000
Sword Tome
Gug (Oversoul)
1 (2)
65,200
System Shock
Aeshma (Common)
1
35,152
Talisman
League Mage
1
4080
Tetra Band
Protochimera (Oversoul Rare)
Zalamander (Oversoul Common)
1
1
6720
56,972
Tetra Bracelet
Critical Bug (Common)
Zalamander (Oversoul Rare)
1
1
228,936
56,972
Tetra Gloves
Rhyos (Oversoul)
2 (3)
58,000
Tetra Guard
Shell Shocker (Oversoul)
1 (2)
19,740
Three Stars
Omega Weapon (Oversoul)
30
96,800
Turbo Ether
Arast
Dark Elemental
Flan Azabache (Normal Rare & Oversoul)
King VERMIN!
Queen Coeurl (Oversoul)
6 (8)
1 (2)
40/60
80 (99)
40 (60)
10,968
1732
30,920 (38,688)
157,428
49,920
Twist Headband
Aculeate (Oversoul)
1
3328
Wall Ring
Bascinet
Gemini
1
1
6000
8176
Water Gem
Blue Elemental
Flan Azul (Oversoul)
Sahagin (Oversoul)
Xiphactinus
6 (8)
2
4 (5)
24 (30)
1500
880
960
3092
White Cape
Cephalotus
2 (3)
7350
White Lore
Adamantortoise (Common)
Anything Eater
Concherer (Normal)
Great Malboro
3
3 (4)
28
2
58,320
48,400
1,373,120
51,932
White Tome
Great Malboro (Oversoul)
2
79,748
X-Potion
Adamantoise
Aquila (Oversoul)
Lupus
Sahagin Prince (Normal & Oversoul)
Yevon Guard (Rare)
Yevon's Finest
10 (12)
12 (16)
3
20 (30)/60 (80)
1
4 (5)
31,400
19,372
5048
25,800 (54,880)
744
6888
Yellow Ring
Gold Elemental (Normal & Oversoul Rare)
1
336 (1584)
Template:FFX Abilities Template:FFX-2 Abilities Template:Abilities