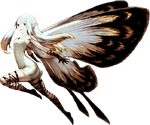 Airy
:
Don't dillydally here. Let's go awaken the crystals.
This article covering content in the
Bravely
series
is no longer within the scope of the Final Fantasy Wiki.
A copy of this article is available
at the Bravely Default Wiki
.
This copy will be deleted soon. Please do not make any additions here.
Relm
:
I couldn't miss the chance to practice my drawing!
This article is in need of a few pictures. Perhaps you can help by uploading a picture.

Cid Pollendina
:
Oh, shut up and help me remodel the Bravely Default command abilities page!
Please expand this article into a full one. The following tasks need to be completed:This request can be discussed on the associated discussion page. Remove this notice upon completion.

The following is a list of command abilities in Bravely Default.
The following commands are available to all four playable characters.
| Command | Description | Image |
| --- | --- | --- |
| Attack | Attack with the equipped weapon. | |
| Abilities | Use an ability. | |
| Brave | Spend BP to increase your actions. | |
| Default | Go on the defensive and increase your BP. | |
| Summon Friend | Summon or send to a friend. | |
| Items | Use an item. | |
| Special | Use a special move. | |
| Run | Try to run away. | |
| End | End command phase. | |
Job commands appear within the Abilities menu.
Community content is available under
CC-BY-SA
unless otherwise noted.