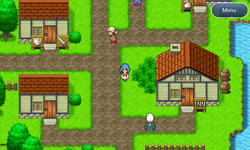 Braska (ブラスカの村, Burasuka no Mura?) is a village in Final Fantasy Dimensions. It is mostly inhabited by old people who speak in a provincial dialect because most of the young people left the village. To the north of Braska is the Warship's crash site and to its west is the Cave to Deist.
Story
[
]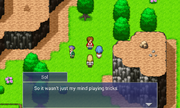 After jumping off the crashing airship, the party ends up in an open space. Having a hard time accepting Elgo's death, Sol wonders if the entire experience was a dream. Aigis confirms that Elgo remained on the airship so that they could escape safely. Wondering where they are, Dusk analyzes the area and notes that they are to the very west of where Lux used to be. An angry Sol realizes this means they are very far from the Empire and, therefore, further away from Glaive and Diana. Dusk accuses Sol of behaving like a reckless child and Aigis agrees that it is best to stay calm. When Sarah asks where they should go, Dusk suggests exploring their surroundings.
Travelling South, the Warriors of Light are unaware that they are being followed by a red-headed woman.
Eventually they reach the village of Braska.

Treasure
[
]
Shops
[
]
Chapter 2
[
]
Items

[

]

Weapons

[

]

Armor

[

]
Chapter 4
[
]
Items

[

]

Weapons

[

]

Armor

[

]
White Magic

[

]

Black Magic

[

]
The inn charges 150 gil per stay.
Gallery
[
]