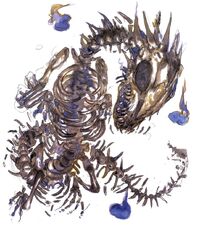 The Bone Dragon (ボーンドラゴン, Boondoragon?) is a recurring enemy in the series.
Appearances
[
]
The Bone Dragon appears as an undead enemy in the Ancients' Maze. It attacks twice per turn and is weak to fire and holy attacks.

The Bone Dragon ((スカルドラゴン, Sukarudoragon?) in Japanese) appears in the middle levels of the Lunar Subterrane.
In the 2D versions Bone Dragon is not weak to spells such as Curaga and Holy.
In the 3D versions, Bone Dragon is not a tough enemy at the stage of the game that it appears in, and using Excalibur, Ragnarok or Leviathan and Bahamut completely destroy it.

The Bone Dragon appears as two enemies: one is purple, the other is green. They both appear in the Subterrane. If the green version is attack with a magic spell, it will retaliate by casting Death on a random party member.

The Bone Dragon appears as an enemy in Drakenvale. It is part of the fixed encounter in which the player obtains Golem, but can later be found as a standard random encounter. It can use Bone to reduce a part member's HP to single digits. It can be harmed by curative magic and items.

The Bone Dragon is one of the first bosses in the Labyrinth of the Ancients raid, and the first zombie dragon encountered. It must be defeated three times before finally being slain.

Gallery
[
]
Etymology
[
]
[view · edit · purge]A dragon is a legendary creature, typically with serpentine or reptilian traits, which is featured in the myths of many cultures.