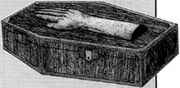 Arm of a bomb turned to coal, its fire ideal for roasting meat.
A Bomb Crank, also known as Bomb Arm (ボムの右腕, Bomu no Migiude?) or Big Bomb, is a recurring item in the Final Fantasy series.
Appearances
[
]
Bomb Arm
Also called
BombR.Arm
Effect
Casts Firaga.
Steal
Bomb, Balloon, Black Flan, Roper, Vulcan, Rock Gargoyle, Dread Knight, Grenade
Drop
Djinn, Bomb, Balloon, Crocotta, Red Marshmallow, Roper, Black Flan, Vulcan, Dread Knight, Grenade
Has the same effect as Fira

Description
Bomb Crank
Effect
Casts Fira.
Also called
Big Bomb, Right Arm, Bomb Arm
Drop
Flamehound (2D and 3D), Chimera (2D and 3D), Chimera Brain (2D and 3D), Balloon (3D only), Dark Grenade (3D only)
Bomb Crank deals a Fira attack to a target. It is found in Ceodore's Tale in Baron Castle East Tower 1F and Mist Cave B1, Kain's Tale in Mist, Rydia's Tale in Dwarven Castle West Tower and Sealed Cave B2, Yang's Tale in Adamant Isles - Forest Part 4, Palom's Tale: Challenge Dungeon Flan Floor, Porom's Tale in Mist, and Edward's Tale in Underground Waterway Entrance North B1.
Bomb Cranks can be bought in Challenge Dungeon Merchant's Square 2F. It is also a possible final treasure in Challenge Dungeons.
Bomb Cranks are dropped by Bomb King, Chimera, Chimera Brain, and Flamehound.
Right Arm
Effect
Inflicts roughly 1,000 non-elemental damage to all enemies.
Buy
Battle Square
Steal
Bomb, Grenade
Drop
Grenade
Morph
Grenade
Cost
500 BP
Bomb Arms (and the related Snoll Arm) are used as crafting materials, and act as a rudimentary grenade. The Bomb Core is an item obtained from Notorious Monster "Friar Rush" which increases attack when equipped.
Bomb Crank is a high-ranked Volatile Compound that can be Scavenged from Strange Liquid on Muruc Cahuac Skysea and Arda, Heaven's Pillar or bought at the Sky Saloon in Chapter 6 for 570 gil (5% discount). It can be used to craft Hornito, Lava Wand, Fumarole, Laevateinn, Caldera, and Tumulus.
The right arm of a bomb, a creature that went extinct back in the Age of Myths. It has been completely mummified and a cursed sigil placed on it. It has the slight smell of gunpowder, but its effect is guaranteed.
Bomb Arm is an item that deals major fire damage to all enemies (or allies). It can be bought from the Adventurer (Norende Village Combat Item Shop Lv. 6) for 2000 pg, found in the Underflow, or stolen from Orthros (ch 1, 5, 6, 7, 8; red head) and Chaugmar (ch 1, 5, 6, 7, 8). It sells for 500 pg.
Bomb Arm can be compounded by mixing together Phlogiston + Phlogiston.
A remnant from the body of a self-destructed bomb. While bomb fragments are commonly seen, fully-intact arms are rare indeed, and naturally prized for the fiery havoc they can wreak on foes. Overeager adventurers looking to procure this treasured item by their own hand have been known to meet an explosive end.

Description
Gallery
[
]