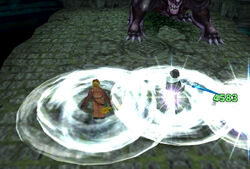 Blue Magic (青魔法, Ao Mahō?), also referred to as Blu Mag, Enemy Skill, Blue Bullet, Ronso Rage, Lore, or Blue is a skillset consisting of abilities used by monsters. Characters specializing in Blue Magic are known as Blue Mages. Blue Magic first appeared in Final Fantasy V and was a staple in the main series until Final Fantasy XII, with it returning in Final Fantasy XIV. The exact method of learning Blue Magic has varied, but the spells are generally learned from enemies.
Appearances
[
]
The Final Fantasy 20th Anniversary Ultimania File 3: Battle book suggests that this game may have been the origin of the idea that became Blue Magic in Final Fantasy V.[1] Certain enemies can drop items that can be given to Rydia so she can perform skills used by those enemies with Summon. Many of these skills became Blue Magic skills in Final Fantasy V, such as Goblin Punch and Mind Blast. Using enemy drops to allow a character to use that enemy's abilities also resembles the system used in Final Fantasy VIII.
Jive is Calca's special ability. Jive acts more like a cross between Blue Magic and Dance in that an attack is chosen at random. A traditional Blue Magic command was planned for Harley, but it is dummied out and thus incomplete and without spells.
Blue Magic appears for the first time. The Blue Mage job learns new abilities by being struck with a learnable spell, or when the character in another job has the Learning ability equipped, innate to Blue Mages. Blue Magic, when equipped, gives the character's base Freelancer Magic +23. The skillset has a total of 30 spells.
Lore is Strago's specialty who needs to witness an enemy magic being used to learn it. Learning is disabled if Strago is afflicted with Blind, Petrify, Zombie, Sleep, Confuse, Stop, Freeze, (or Rage if Strago could use it) at the time the Lore is used. In addition to enemies, Gau, Gogo and Relm can teach Strago Blue Magic by using the Rage and Sketch commands, respectively.
The Enemy Skill Materia functions like Blue Magic. When it is equipped and the equipper is hit by a suitable enemy skill, the Materia will learn it. There are a few different Enemy Skill Materia to be found, and if the player wants more than one party member to be able to use the skills simultaneously, they will need to "teach" the abilities to the different Materia separately, although equipping more than one Enemy Skill Materia to a character has all the Materia pieces learn the skill when the character is hit. Enemy skills cannot be learned permanently on the Battle Square, or if the character is ejected from battle, resulting in them not appearing on the battle results screen. Some enemies only use their skills when controlled.
Quistis learns Blue Magic from special items obtained from enemies or from their cards. She can use the spells with her Limit Break, and some Blue Magic have enhanced effects the higher the party's Crisis Level is.
Quina learns Blue Magic by eating opponents when they have less than 25% of their max HP left. When in Trance, they can use the Cook ability, which successfully consumes opponents that have less than 50% of their max HP left.
Ronso Rage is Kimahri's Overdrive. He has to perform Lancet on the enemy with the spell to learn it. When he learns a new Ronso Rage, his Overdrive meter will fill.
The Gun Mage dressphere can learn certain enemies' skills by surviving the attack. Learned skills can be used directly after via the Blue Bullet command. Learned Blue Bullet skills must be learned by each party member individually.
Blue Magic is used by the job Blue Mage. It is a type of magic that players must skill up to use effectively. Blue Magic spells are based on the caster's Blue Magic skill, rather than Enhancing Magic, Enfeebling Magic, Divine Magic, Dark Magic, and Elemental Magic. There are over 150 spells at the Blue Mage's disposal.
Blue Magic is a type of magic used by Blue Mages. It is not learned via leveling requirements or quests as they are all Lv. 1. Instead, they are learned by the mage observing certain attacks and then defeating them, with the acquisition being random. Most spells can be learned in the overworld from mobs while others can only be learned from bosses in instanced dungeons or Primal Trials, the primals in particular having rare drops.
The Blue Mage job has its own dedicated Spellbook in the Main Menu that lists magic learned and yet to be learned, with the only hint given is their location and which ones are active. Only 24 spells can be active at any time. After acquiring enough spells and earning achievements, the player can talk to the Wayward Gaheel Ja in the Steps of Thal between the Miner's and Weaver's Guilds to redeem tokens to unlock additional spells without having to face monsters who have them.
As a great deal of the spells learned are elemental, their affinities play a pivotal role in the Blue Mage-exclusive instance, The Masked Carnival, which pits the player against a set of monsters, some of whom are weak against certain elements.
There is no Blue Mage class nor Blue Magic, but some spells can only be learned "Blue Magic style". The spell Ultima can only be acquired when it is used on Ramza, or his sister Alma, in Chapter 4 (or Luso in Chapter 3 in the War of the Lions remake). A greater form of Ultima can be learned by Alma during the battle with the final boss.
Any unit can learn spells, such as Thundaja and Firaja, from having them cast on them while they are in a job that learns it (ex. a Black Magick spell can only be learned "Blue Mage style" if the target is a Black Mage), but this usually only applies to the "-aja" tier spells, and a majority of Summon spells. The last spell is Zodiac that can only be learned when it is used on a Summoner during the battle with the optional boss Elidibus, or in the Rendezvous battles from high-level summoners or Elidibus in the PlayStation Portable remake.
Blue Magic is an action ability used by Blue Mages, a job available to humes.
Blue Magick is usable by the Blue Mage job.
While there is no Blue Magic which can be created and/or honed, the few Blue Mages who appear use Blue Magic spells from their games as their Soul Breaks. The official strategy site contains pages for a variety of Blue Orbs and their descriptions state that they are "infused with blue magic". Some enemy abilities are categorized as "Blue Magic".
Blue Magic is a set of spells that debuted on Season Three along with Fina's Blue Mage variant for the season. Fina requires only to be present in certain battles in the season to learn Blue Magic, so her learning is strictly tied with story progression.
Apart from Fina, several traditional Blue Mage characters are released as recruitable visions given for free in certain events. The player is tasked with performing certain quests for the respective units to learn their Blue Magic spells.
Blue Magic was a recurring topic between players and developers, with the latter often expressing interest in implementing Blue Magic, but ultimately being unable to provide concrete answers as they struggled to find a proper mechanic that suited the game.
One of Kimahri's cards has the Enemy Skill ability. For the discard of another Kimahri card and two Earth CP, the player can choose any Forward the opponent controls and use its special ability until the end of the turn.
Spell list
[
]
Recurring
[
]
Support spells
Angel Whisper - Angel Whisper revives and restores HP to KO'd allies.
Mighty Guard - Mighty Guard grants Protect and Shell, plus other statuses that vary from game to game, to the entire party.
White Wind - White Wind restores HP to the party based in some way on the caster's HP.
Frog Song - Frog Song usually inflicts Toad and sometimes Sleep. It is generally learned from Toad enemies.
Magic Hammer - Magic Hammer reduces or drains a target's MP.
Night - Night puts all targets, friend and foe, to sleep. It even affects the caster in Final Fantasy IX.
Offensive spells
Game specific
[
]
Flash - blinds all enemies.
Level 2 Old - casts Old on all targets with a level that is a multiple of 2.
Level 3 Flare - casts Flare on all targets with a level that is a multiple of 3.
Level 4 Graviga - casts Graviga on all targets with a level that is a multiple of 4.
Off-Guard - lowers the target's defense.
Lilliputian Lyric - casts Mini on the target.
Death Claw - reduces target's HP to a single digit and paralyzes them.
Moon Flute - casts Berserk on the target.
Transfusion - fully restores target's HP and MP. KOs the user afterward.
Dark Spark - halves the target's level.
Vampire - drains HP from the target by an amount equal to either the difference in the user's current and max HP or the target's current HP.
Tsunami - deals Water damage to all enemies.
Level 3 Confuse - casts Confuse on all enemies whose level is a multiple of 3.
Reflect??? - causes Darkness, Silence, and Slow on all opponents who have the Reflect status.
Traveler - deals damage to one opponent equal to the number of steps the party has taken throughout the game divided by 32.
Force Field - nulls all damage done by a random element to everyone on the field—allies and foes both.
Dischord - halves the level of one enemy. Enemies immune to death will not be affected.
Quasar - deals non-elemental magic damage to all opponents.
Grand Delta - deals non-elemental magic damage to all opponents. More powerful than quasar.
Chocobuckle - deals damage equal to the number of times the party has escaped from battle times 4, only if the caster's level is a multiple of 4.
LV3 Def-less - randomly lowers the defense and magic defense of enemies whose levels are a multiple of 3.
Earth Shake - deals Earth damage to all enemies on the ground.
Angel's Snack - consumes four Remedies to use on the entire party at once.
Vanish - causes a target to disappear and become immune to physical damage.
Mustard Bomb - attempts to inflict the Heat status on one target.
Auto-Life - causes one target to automatically be revived once after being KO'd.
Non-Final Fantasy guest appearances

[

]
In Bravely Default, Genome Abilities are learned by the Vampire job class. They are acquired when a character with the Genome Drain support ability is hit by an enemy's attack. Genome Abilities are part of the Vampirism skillset, while Genome Drain is the specialty of the Vampire obtained as a support ability at Job Level 13.
In Bravely Second: End Layer, Catmancy and Cat Mastery are learned by the Catmancer job. They are acquired when a character with the Learning support ability is hit by an enemy's attack. Catmancy is learned at job level 1 and Cat Mastery is learned at job level 8, while Learning is the specialty of the Catmancer obtained as a support ability at job level 6. Only one character needs to have the Learning support ability for all characters to learn the enemy's skills.
Gallery
[
]
References
[
]