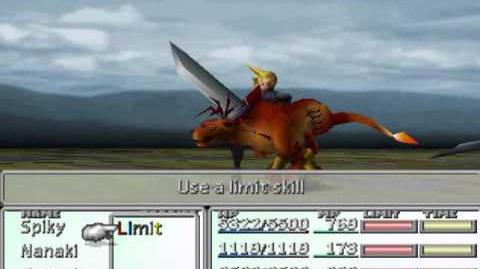 Blood Fang (ブラッドファング, Buraddo Fangu?) is a recurring ability in the series. It is a Limit Break utilized by Red XIII.
Appearances
Edit
Blood Fang is a Limit Level 2 ability for Red XIII, learned after killing 72 enemies while at Limit Level 1. It inflicts non-elemental damage to one enemy equal to 11⁄4 times normal damage while also absorbing some HP and MP at the same time. The HP/MP absorbed is equal to roughly 25% of the damage dealt. Using Blood Fang 7 times will unlock Stardust Ray for Red XIII.
Blood Fang is the ability of Red XIII.
Bloodfang is an active ability that absorbs HP and inflicts Poison on a single target for 4 AP. It has low topple strength. It can be used by Vampire.
Non-Final Fantasy guest appearancesEdit
Blood Fang is an ability used by Django. This technique can be done by pressing Up + Down while running.
Community content is available under
CC-BY-SA
unless otherwise noted.