Only he who holds the Blood-Sin can succeed to the Dark city. The would-be successor must cede his phantom soul if he is to accept his prize—control of the Dark.

John Hardin, Vagrant Story
The Blood-Sin (血まみれの罪, Chimamire no tsumi?), also known as Rood Inverse, is a tattoo of great power in Vagrant Story.
Story
[
]
Other appearances
[
]
The Blood-Sin is in the background when the player summons. It is signed by Gabranth in his first major appearance, and an identical Blood-Sin mark to the infamous tattoo from Vagrant Story appears on the skull of the shamaness during Zalera's spell "Death Wail". It also engraved onto the top half of the Shell Shield.
The cover of the Grimoire of the Rift tome may be intended to resemble the Blood-Sin.

Merchandise
[
]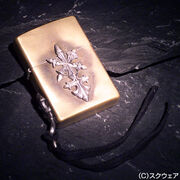 The official Vagrant Story Zippo lighter depicts the Blood-Sin.