Script error Template:Images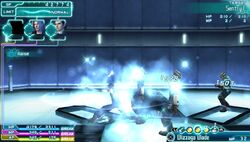 Blizzaga Blade (ブリザガ剣, Burizaga Ken?), also known as Blizzaga Sword or simply Blizzaga or Ice 3, is a recurring ability in the series. It is oftentimes part of the Spellblade skillset, and is the highest Ice-elemental or Water-elemental Spellblade available, depending on the game. It generally requires learning the Blizzaga spell in order to use this ability.
Appearances
Blizzaga is a level 5 Spellblade ability, costing 15 MP to cast. When used against any non-Heavy enemies weak to Ice-elemental attacks, it will instantly kill them while against Heavy enemies, it will deal x4 damage and pierce their defenses.
Blizzaga Blade is a rank 5 Command Materia that costs 32 MP to use. It can be stolen from Crescent Unit Aurum, found during Missions 2-5-6, 4-4-2, and 6-3-4, or bought in the Wutai Secret Shop for 10,000 gil.
Blizzaga Sword is a Sword Magic ability used by Steiner while Vivi is in the party. It costs 30 MP to use and gives +30 Attack.
Blizzaga is a level 5 Sword Magic. It imbues a weapon with a high-power water effect for ten turns. This will raise attack power by the amount of the magic effect. it costs 45 MP to use. It can be bought in Eternia for 3200 pg.
Gallery
Community content is available under
CC-BY-SA
unless otherwise noted.