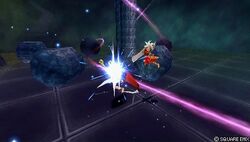 Blade Torrent (流剣の舞, Ryūken no Mai?, lit. Flowing Sabre Dance) is a recurring ability in the series.
Appearances
[
]
Blade Torrent is a ground physical HP attack for Onion Knight, learned by default. It requires 40 CP to equip (20 when mastered), 180 AP to master, has Melee High priority, and can induce Wall Rush. It has him pause for a moment, then leap forward and into the air, rapidly teleporting around the opponent to attack with his sword if the first strike is successful.
Blade Torrent is a HP attack for Onion Knight, requiring 30 CP to equip (15 when mastered) and 130 AP to master. It is otherwise the same as before.
Blade Torrent is Onion Knight's EX ability. It is obtained by equipping Onion Knight with the Serpent Sword or the Follower of Two Paths Passive ability obtained by limit breaking the serpent sword 3 times and leveling it up to level 35.
It is a single target 6 hit Brv+HP attack repeated Twice. it grants 3 stacks of the framed buff Ninja.
Blade torrent turns into Meteorite if onion knight has any stacks of the framed buff Sage
Gallery
[
]
Etymology
[
]
[view · edit · purge]In Italy, an intermittent stream is termed a torrent. Intermittent stream is a stream with a high seasonal flow variation.