You're very kind to use our words. But you already know what it means to live... and to die. You're asking about our friends who have 'died,' not 'stopped.'"
—To Vivi
Black Mage No. 288 is a non-player character from Final Fantasy IX. He is a particularly perceptive resident of the Black Mage Village, to whom the other black mages turn to for guidance. He acts as the de facto leader of the village and the black mages who have "awoken".
No. 288 was once just another black mage soldier in service to Alexandria. On the day he gained sentience, he described it was suddenly awakening from a daze, and was horrified by the sight of a blood-covered soldier laying before him. He fled the scene and found others like him on the scene, and they wandered Gaia until they heard of the Black Mage Village and made their way there. As leader of the village, No. 288 realizes that the black mages that "stopped" had reached the end of their lifespan and died, but he conceals his knowledge from the other black mages, as they cannot yet understand death and are only confused.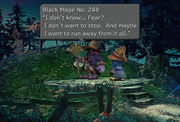 When the party first arrives at the village, Black Mage No. 288 can be found at the graveyard. At night, Vivi wanders out of the inn, meets him at the cemetery, and questions him about the black mages who have "stopped moving". No. 288 explains the actuality of death to Vivi, which leaves him confused. When the party returns to the village later on, Black Mage No. 288 explains the other black mages in the village, save for two mages caring for a chocobo egg, accompanied Kuja as soldiers to the Desert Palace, having convinced the black mages he can extend their lifespans.
At the beginning of Disc 4, the Genomes have been taken to the Black Mage Village. No. 288 comments they are very similar to black mages, and that they are welcome to live there as the two races learn from each other. He also explains to Mikoto how he feels that a grave is not a pointless stone to mark a fallen life, but a symbol of the memories that friends give others in life.
Community content is available under
CC-BY-SA
unless otherwise noted.