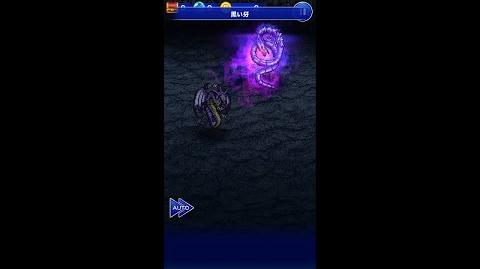 Black Fang (くろいきば or 黒い牙, Kuroi Kiba?), also known as Bl.Fang, Black Fangs, and Demolish, is a recurring ability in the series. It is generally associated with Golbez or the Shadow Dragon, and usually inflicts Instant Death or otherwise a powerful effect.
Appearances
Black Fang in enemy ability used by Shadow Dragon in a cutscene, which inflicts Instant Death to all party members but Cecil (and Kain in earlier versions, if Jump is timed correctly) with 100% accuracy. This is the only time the ability is ever used.
Black Fang is an enemy ability used by Shadow Dragon as well as the Curse Dragon and Ebony Dragon, and once again inflicts Instant Death with 100% accuracy. The Dark Knight is also able to use Black Fang, which saps the HP of a party member to 1.
Black Fang is an EX Mode only ability used by Golbez, used by holding both

and

. It has an extremely long charge time, but if it connects will instantly inflict Break regardless if the opponent's Bravery is locked or not, and can only be prevented through the usage of Phoenix.
Black Fang is an EX Mode only ability used by Golbez, and retains all the properties from the previous game.
Black Fang is one of Golbez's HP moves. After charging a black spike shoots up from underneath the target dealing HP damage if it hits. If used while Golbez has the Shadow Dragon out, it will inflict Slow on the target while it charges.
Black Fang is unique Soul Break available to Golbez which at the expense of one Soul Gauge segment deals four non-elemental magic attacks to a single target. He can use it via axe Rune Axe (IV) from which it can be mastered so it can be used without needing to be equipped with the said weapon.
Gallery
Community content is available under
CC-BY-SA
unless otherwise noted.