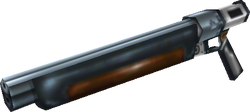 The intricate craftsmanship of this gun is the stuff of firearm collectors' dreams.
Bismarck (ビスマルク, Bisumaruku?) is a recurring weapon in the series. It is usually a relatively powerful gun that provides no additional effects.
Appearances
[
]
Contrary to the Ulysses, the Bismarck has a sleek look. The rifle is very handy and light, but in turn requires more physical strength and energy to handle its powerful recoil.

Description
Bismarck is the second strongest weapon for Irvine, requiring Steel Pipe x2, Dynamo Stone x4, and Screw x8 as well as 400 gil to make. It provides 20 Attack and has a 110 Hit Rate.
Bismarck is a weapon that is usable by Setzer, Balthier, Sazh, and Magitek Armor. It provides +6 Attack.
A gun from a faraway world. The barrel and other parts of the gun have been trimmed as much as possible to allow for increased agility while still maintaining high attack power. However, this has come at the cost of much stronger recoil. This particular model is said to have been used by a sharpshooter from Galbadia Garden.

Description
Bismarck (FFVIII) is a gun obtained as the Trust Master reward from Irvine. It provides 144 ATK, +70% Accuracy, requires both hands to wield, has a damage range of 135-165%, and increases Limit Burst damage by 30%.
Non-Final Fantasy appearances

[

]
Bismarck is a gun that can be equipped by Ryuma.
Gallery
[
]
Etymology
[
]
[view · edit · purge]The German battleship Bismarck is a famous Second World War battleship, named after the German Chancellor Otto von Bismarck.