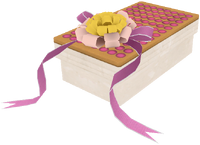 This is ridiculous. Worst birthday ever.
The following is a list of birthdays in the Final Fantasy series. Due to vast differences in the timelines of the series, years will not be noted, only the days and month.
List of birthdays
[
]
January
[
]
February
[
]
March
[
]
April
[
]
Because diamond is the birth stone for April representing strong will, the developers of Final Fantasy XV chose April as birth month for characters who fit that description.[3]
May
[
]
June
[
]
July
[
]
August
[
]
September
[
]
October
[
]
November
[
]
December
[
]
Celebrated birthdays
[
]
Birthdays are rarely mentioned in Final Fantasy games. Only a handful of times is a character's birthday addressed, and even fewer are the times when a birthday is celebrated in-game.
Garnet's 16th birthday is celebrated in the opening of Final Fantasy IX; it is the time Tantalus Theater Troupe comes to town to perform one of her favorite plays, I Want to Be Your Canary.

In Final Fantasy XIII, Lightning's 21st birthday occurs one day prior to the game's introductory sequence. Serah Farron and Snow Villiers organize a birthday dinner for her at Lightning's home and get her a present. Lightning's birthday cake has a chocobo design.
In Noel Kreiss's dream world in Final Fantasy XIII-2, he hunts a behemorh for Yeul's 15th birthday party, though the only people left of their tribe are himself, Yeul, and Yeul's Guardian Caius.
Delita gives Ovelia Atkascha flowers for her birthday during the ending of Final Fantasy Tactics. The War of the Lions adds a scene where Mustadio gives Agrias a birthday present, if the player fulfills certain conditions.
At the beginning of Final Fantasy: The 4 Heroes of Light, Brandt celebrates his 14th birthday, but his actual birth date is not given.
Other mentions of birthdays
[
]
Final Fantasy XIV let players to select a birth date from an Eorzean calendar for their created characters. However, this is just a vanity feature and does not have any effect in-game.
The description for the Engine Blade in Final Fantasy XV says the sword was a 16th birthday present from King Regis to Prince Noctis. Audi is said to have teamed up with the Royal Art Society of Lucis to create Audi R8 Star of Lucis car to celebrate the 20th birthday of Prince Noctis.[7]
In Final Fantasy Tactics, the characters' birthdays determine their zodiac signs that have a minor influence in battle. The player can choose Ramza's birthday. There are usually no events for characters' birthdays, besides the one special event for Agrias in War of the Lions, but they will age in the in-game glossary.
References
[
]
↑ 1.0 1.1 1.2 1.3 Final Fantasy XV Japanese community questions answered (Accessed: January 27, 2019) at Gematsu
↑ Final Fantasy IX Ultimania, p.025-027
↑ 3.0 3.1 FINAL FANTASY XV EPISODE ARDYN PROLOGUE Q&A (7:52) (Accessed: May 18, 2022) by FINAL FANTASY XV at YouTube
↑ FINAL FANTASY XV EPISODE ARDYN PROLOGUE Q&A (9:07) (Accessed: May 18, 2022) by FINAL FANTASY XV at YouTube
↑ FINAL FANTASY XV EPISODE ARDYN PROLOGUE Q&A (8:33) (Accessed: May 18, 2022) by FINAL FANTASY XV at YouTube