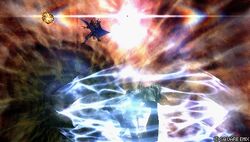 Paralyze all enemies

Final Fantasy Brave Exvius description
Binding Cold (呪縛の冷気 or じゅばくのれいき, Jubaku no Reiki?, lit. Spellbinding Cold), also known as Ice Bind, Hold Gas, and Cursed Aura, is a recurring ability in the series. It is a Limit Break ability for Golbez, which generally paralyzes all targets with an ice magic.
Appearances
Edit
Binding Cold is an enemy ability used exclusively by Golbez (Golbez and 3D) after a set time at the start of the battle. After taunting Cecil and his friends, he unleashes this attack to inflict Paralysis on the party with 100% accuracy before summoning the Shadow Dragon (2D and 3D) to use Black Fang.
Binding Cold is part of Golbez's EX Burst attack, which immobilizes his opponent before he unleashes his stronger attack, Twin Meteor when his EX Burst is executed perfectly.
Binding Cold is Golbez's EX Skill. It creates an area-of-effect that momentarily freezes foes in place.
Binding Cold is Golbez's default Soul Break which at the expense of one Soul Gauge segment attempts to inflict Paralysis on all enemies with 20% accuracy.
Binding Cold is Golbez's exclusive special ability and the only active trait he learns. It costs 20 MP and has 30% chance of inflicting paralyze on all enemies. It is learned by Golbez at level 46 (5★).
Non-Final Fantasy appearancesEdit
Binding Cold is Golbez and Awoken Golbez's ability. At the start of the player's turn, all Enemy Units receive Delay for 1 turn and take 1 damage.
Community content is available under
CC-BY-SA
unless otherwise noted.