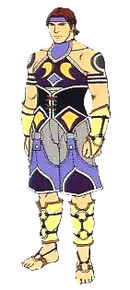 Us? Pray? Who needs to pray? The Luca Goers always win!

Bickson
Bickson (ビクスン, Bikusun?) is the team captain and left forward of the Luca Goers, a blitzball team representing Luca. Cocky and arrogant by nature, Bickson is widely regarded as the best blitzball player in Spira. He is first seen at Kilika Temple, where he taunts the Aurochs with Abus and Graav. Bickson was voiced by Quinton Flynn in the English version, and Shunsuke Sakuya in the Japanese version[1].
Later, along with Graav, he talks to Yuna on the S.S. Winno. Yuna tells him that Tidus is the star player of the Zanarkand Abes, giving the cocky Bickson something to gloat about. In the tournament in Luca, Bickson continues to taunt Tidus and the Aurochs. If the Aurochs win the game, Bickson and some of the other Luca Goers will say that the Aurochs won by a fluke. After Tidus and the others are accused of being traitors, Bickson comments that, in the sphere pool, it doesn't matter whether or not they are traitors.
With his strong EN and SH, Bickson is an excellent player for the forward position. However, like the other starting Luca Goers, Bickson's stat growths decline at later levels, making him an overall weak player. Once released from contract he says "I made the Goers what they are today. You'd best remember that."
Gameplay
[
]
Location
Luca Harbor, Number 3 Dock
Key Techniques
Wither Shot
Nap Pass
Anti-Nap
Starting Techniques
Venom Shot
Volley Shot
Stats
[
]
| LV | 1 | 5 | 10 | 15 | 20 | 25 | 30 | 35 | 40 | 45 | 50 | 60 | 70 | 80 | 90 | 99 |
| --- | --- | --- | --- | --- | --- | --- | --- | --- | --- | --- | --- | --- | --- | --- | --- | --- |
| HP | 140 | 307 | 530 | 767 | 1,297 | 1,570 | 1,570 | 1,867 | 2,180 | 2,507 | 2,850 | 3,590 | 4,370 | 5,220 | 6,130 | 7,000 |
| SP | 60 | 60 | 60 | 60 | 60 | 60 | 60 | 60 | 60 | 60 | 60 | 60 | 60 | 60 | 60 | 60 |
| EN | 12 | 15 | 18 | 21 | 24 | 26 | 29 | 31 | 33 | 34 | 36 | 38 | 40 | 41 | 40 | 40 |
| AT | 3 | 4 | 5 | 6 | 7 | 8 | 9 | 11 | 12 | 14 | 15 | 18 | 22 | 26 | 29 | 33 |
| PA | 5 | 6 | 8 | 9 | 10 | 12 | 13 | 14 | 15 | 16 | 18 | 20 | 21 | 23 | 24 | 25 |
| BL | 2 | 2 | 3 | 4 | 5 | 6 | 7 | 8 | 9 | 10 | 11 | 12 | 14 | 16 | 18 | 19 |
| SH | 12 | 15 | 18 | 22 | 25 | 27 | 30 | 32 | 35 | 36 | 38 | 41 | 43 | 44 | 45 | 45 |
| CA | 1 | 2 | 3 | 4 | 5 | 6 | 7 | 8 | 9 | 10 | 11 | 13 | 15 | 17 | 19 | 20 |
Techniques
[
]
Starting Techniques: Venom Shot, Volley Shot
Normal Techniques: Venom Shot 2, Nap Shot, Wither Shot, Wither Pass, Volley Shot, Volley Shot 2, Tackle Slip, Golden Arm
Level 1 Techniques: Nap Shot 2, Nap Pass, Anti-Nap, Anti-Wither, Regen, Good Morning!
Level 2 Techniques: Sphere Shot, Volley Shot 3, Anti-Venom, Spin Ball, Gamble
Level 3 Techniques: Invisible Shot, Venom Shot 3, Nap Shot 3, Wither Shot 2
Gallery
[
]
References
[
]
See also
[
]
Final Fantasy X series blitzball teams and players