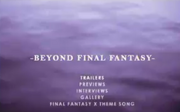 I don't think I have what it takes to make a good action game. I prefer telling stories.

Opening quote of the "Final Fantasy History" feature from series creator Hironobu Sakaguchi
Beyond Final Fantasy is a bonus DVD included with the International and PAL versions of Final Fantasy X containing interviews with the game's developers and two of the game's English voice actors, James Arnold Taylor (Tidus) and Hedy Burress (Yuna), trailers, a concept and promotional art gallery for the game, and a music video of "Suteki da ne" performed by RIKKI.
The trailers include "Final Fantasy History", which is a compilation footage of past Final Fantasy games leading up to introducing Final Fantasy X. Other trailers include two trailers for Final Fantasy X and the original theatrical trailer of Final Fantasy: The Spirits Within.
The previews on the DVD are of the first Kingdom Hearts game, and include the Tokyo Game Show 2001 and E3 2002 trailer previews along with clips of rare unused cutscenes and attacks.
The interviews sections includes interviews with the developers of Final Fantasy X; Yoshinori Kitase (producer), Tetsuya Nomura and Fumi Nakashima (character designers), Koji Sugimoto (main programmer), Yusuke Naora (art director), Takayoshi Nakazato (map director), Toshirō Tsuchida (battle director), Shintaro Takai (battle art director), Motomu Toriyama (event director), Takashi Katano (main event programmer), Kazushige Nojima (scenario writer), Chiharu Minekawa (supervising sound editor), Nobuo Uematsu (sound producer & music) and Hironobu Sakaguchi (executive producer).
The English interviews include interviews with James Arnold Taylor and Hedy Burress, Tidus's and Yuna's voices in the English localization of the game, who talk about how they prepared for their roles and what they thought of the characters and the game as a whole.
The gallery section contains illustrations by Yoshitaka Amano, of whom a short profile is also included, plus story and image boards.
The theme song section contains a short profile on RIKKI, the singer, and a music video for "Suteki da ne".
Community content is available under
CC-BY-SA
unless otherwise noted.