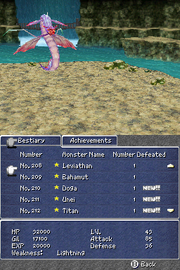 Bestiary of Final Fantasy III, as well as a record of Achievements, are features in the 3D versions, in the town of Gysahl. The iOS/PSP/Steam versions include another moogle next to the Mognet moogle on the Invincible who will bring up the Bestiary and Achievements.
There are 226 monsters listed in the Bestiary, including bosses. Each entry indicates the amount of the particular enemy defeated that caps at 255. Kills beyond that are not recorded.
Bestiary
[
]
For a gallery of the entries in the Bestiary from the NES version, go here.
For an alphabetical listing of the entries and their corresponding pages on this wiki, go here.
There are 226 monsters. The following sections list the entries numerically as they are in the game's official Bestiary. Bosses are marked with a ☆.
Enemies 1 - 25

[

]

Enemies 26 - 50

[

]

Enemies 51 - 75

[

]

Enemies 76 - 100

[

]
Enemies 101 - 125

[

]

Enemies 126 - 150

[

]

Enemies 151 - 175

[

]

Enemies 176 - 200

[

]
Achievements
[
]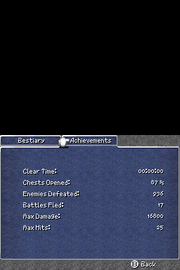 In addition to showing a record of the number of monsters defeated for each entry in the Bestiary, the following overall stats are displayed:
Clear Time
Chests Opened
Enemies Defeated
Battles Fled
Max Damage
Max Hits
Master Cards