Before Crisis -Final Fantasy VII- is a Japanese action role-playing game developed and published by Square Enix in 2004. It is the prequel to Final Fantasy VII, taking place during the six years prior to it. Before Crisis was the first original (i.e. not an enhanced remake) game Square Enix produced for mobile phones, and was released on NTT DoCoMo's FOMA 900i line on a monthly subscription basis. In their pre-E3 2006 press conference, Square Enix announced an English version would be released in the United States sometime during 2006. The prevailing rumor was that the game would have been released on Sprint mobile phones, but the English localization was canceled because Western phones of the time did not meet technical requirements, making this the only Compilation of Final Fantasy VII game not released outside of Japan and one of the very few Final Fantasy game projects not released internationally in the new millennium. On September 30, 2010, Hajime Tabata revealed he would like to remake the game for Nintendo 3DS.[1]
Before Crisis -Final Fantasy VII- centers around the adventures of the Turks, a group of supporting characters featured in Final Fantasy VII, and was the second installment in the Compilation of Final Fantasy VII series, which also includes the games Dirge of Cerberus -Final Fantasy VII- and Crisis Core -Final Fantasy VII-, the CGI movie Final Fantasy VII: Advent Children, the OVA Last Order -Final Fantasy VII-, the novella On the Way to a Smile, and the original Final Fantasy VII itself.
The last episode was released on April 1, 2006—the series officially ending at a total of 25 episodes, including a special episode titled "Tseng's Side Story", set prior to the events of Before Crisis -Final Fantasy VII- and revealing parts of Tseng's past. At the end of May, a special addition to the game known as WEAPON Mode was released that involves the player traveling the Planet and hunting down the Jade Weapon, which is released after Zirconiade is defeated. The Jade Weapon is the seventh Weapon to be created, but the first to appear in the Final Fantasy VII world chronologically.
As the infrastructure required to switch episodes was shut down, the ability to fully play the game ended on March 31, 2018.[2]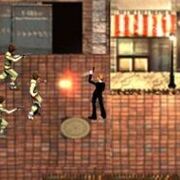 Before Crisis -Final Fantasy VII- is a real-time action RPG. The game's graphics are 2D, and the player moves along in a side-scrolling manner. Gameplay is divided between several modes: Episode Mode plays through the game's main storyline where the player must complete objectives to continue; Free Mode allows the player to play extra missions to gain EXP and items, similar to Crisis Core -Final Fantasy VII-'s missions, and some items are exclusive to Free Mode; Rescue Mode is the last mode of play, and if a player is defeated they can either restart and lose points, or allow themselves to be imprisoned. Afterward they must wait for other players on their network to rescue them.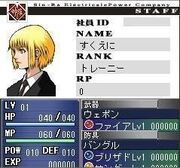 Characters have HP and MP, level up and can equip weapons and armor. Materia is obtained via a Materia Generation System where the player takes a picture with their camera phone, and the game synthesizes the picture down to its base color. Depending upon the dominant color, lighting, darkness, and other factors, the game makes a Materia of a certain type. A dark green picture makes a Bio Materia, a blue picture makes Cure, etc. Materia can be leveled up as in Final Fantasy VII, up to level 9.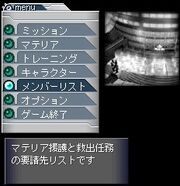 Another new feature are Rank Points (RP) that are given during the completion of objectives in all three modes of play. After enough RP are accumulated, special bonuses such as stronger armor, weapons, and Materia slots can be given. The player is given a rank based upon how long they have been playing the game. The higher their rank, the better the bonuses, but it makes Training Mode more difficult, as the player must fight stronger and stronger opponents.
| Rank | Time Played | Bonus |
| --- | --- | --- |
| Trainee | Initial | Can create HP Plus materia. |
| Rookie | 2 months | Can create MP Plus materia. |
| Member | 3 months | Can get Bronze Bangle. |
| Ace | 4 months | Can get Piercing Rod, Magnum, Twin Automatic Guns, Speed Gun, Iron Bangle. |
| Leader | 5 months | 2 More Materia Slots. |
| Silver | 6 months | Can get Titan Bangle. |
| Gold | 7 months | Can get Over Soul, Metal Knuckle, Light Rod, Commander, Twin Magnum, Canon. |
| Platinum | 8 months | none |
| Black | 9 months | Can get Carbon Bangle. |
| Expert | 10 months | none |
| Master | 11 months | Can get Diamond Bangle. |
| Grand Master | 12 months | none |
| Legend | 13 months | Can get Crystal Bangle. |
| Galaxy | 14 months | none |
| Crystal | 15 months | none |
| All-Time | 16 months | none |
| Omega | 17 months | Special employee ID is issued. |
Characters
Edit
With Before Crisis -Final Fantasy VII-, several members of the Turks not previously seen in Final Fantasy VII were introduced. They are the game's unnamed playable characters which the player takes control of as they battle Elfe and the first incarnation of AVALANCHE.
As the game progresses, various characters from the original game make cameo or supporting role appearances; these include Tseng, Reno, Rude, Sephiroth, Cloud Strife, Aerith Gainsborough, Zack Fair, Tifa Lockhart, members of the original player party of Final Fantasy VII, and many others.

Soundtrack
Edit
The original Before Crisis -Final Fantasy VII- trailers and commercials include several original animated scenes by MADHOUSE, which would later animate Last Order -Final Fantasy VII-. Later trailers prominently feature scenes of the Turks from the OVA.
External links
Edit
References
Edit
Community content is available under
CC-BY-SA
unless otherwise noted.