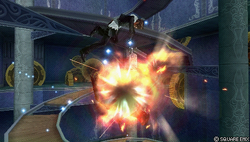 Beat Fang (ビートファング, Bīto Fangu?), also known as Gnashing Fang, is a recurring ability in the series. It is an ability used exclusively by Squall Leonhart.
Appearances
Edit
Beat Fang is an aerial physical Bravery attack, learned at level 10. It requires 30 CP to equip (15 when mastered), 180 AP to master, has Melee Low priority, and can induce Wall Rush. Squall strikes the opponent three times to knock them down and around, then rises and stabs them repeatedly. The move has short range but fast execution.
Beat Fang is a Bravery attack for Squall, requiring 100 AP to master but is otherwise identical to its previous incarnation.
Community content is available under
CC-BY-SA
unless otherwise noted.