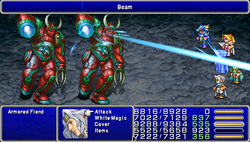 Beam (ビーム, Bīmu?) is a recurring enemy ability in the series, which generally deals heavy non-elemental damage to one target. It is often used by Machine-type enemies.
Appearances
Edit
Beam is an enemy ability used by Beam Cannon, Dr. Lugae, and Searcher, while in the 3D remakes it is used by all of these enemies plus Armor Construct. It inflicts damage to one target equal to 1/10th of their Max HP in the non-3D remakes.
Beam is an enemy ability used by Deus Ex Machina, and Security Eye. It inflicts non-elemental damage to one or more targets.
Beam is an enemy ability used by Armored Fiend, Beam Cannon, Death Machine, and Proto Beam Cannon.
Beam lowers the target's Magick Attack stat by 2 for the duration of the battle. The ability is used by Plague Horror if a unit has the "Beastmaster" Support Ability nearby.
Beam is a Damage attack used by Iflyte and Jinn, it has an attack power of 22.
Beam is an enemy ability used by the Phantasm and Wizard, a projectile that can be shot in all eight directions.
Beam is an ability that has 10 uses and deals damages to one enemy. This ability is used by Gazer, Seeker, Robot, Evil Eye, Beholder, Mazin, Hunter, and Machine.
Beam is a special attack that has 15 uses, it also increases a Robot's HP by 9. The damage formula for Beam is the user's Mana x7. This attack can be used by Beholder, Evil Eye, Falcon, Gazer, Intrcept, Mazin, ROBO-Z, and Watcher.
Beam deals physical damage to one target. It can be used by AirMaid, Jerrit, Maitie, IronLady, Spectrat, Guard, Keeper, Monitor, Searcher, Alert, and Ballor.
Etymology
Edit
Beam refers to a narrow, propagating stream of particles or energy.
Community content is available under
CC-BY-SA
unless otherwise noted.