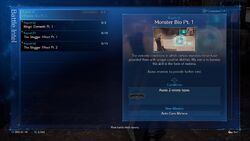 Trophy:

Intelligence Agent

Complete all battle intel reports.
Battle Intel (バトルレポート, Batoru Repōto?, lit. Battle Report) is a feature in Final Fantasy VII Remake. It is a series of 19 objectives, first available in the quest "Chadley's Report" in Chapter 3, "Home Sweet Slum", that the player completes for Chadley, an intern at the Shinra Electric Power Company who aids the party. By completing the objectives, materia become available for purchase, and bonuses are unlocked. Objective progress is tracked before the objectives are unlocked, so if the player knows them in advance, they can work on completing them at any time.
Chadley can be found in the following locations:
Completing all reports unlocks the silver trophy Intelligence Agent.
Objectives
[
]
Name
Description
Conditions
New Materia

Monster Bio Pt. 1

The extreme conditions in which certain monsters thrive have provided them with unique curative abilities. My aim is to harness this skill in the form of materia.

Assess enemies to provide further intel.
Assess 2 enemy types.
Auto-Cure Materia

Magic Elements Pt. 1

Aiming to develop a new elemental materia based on an analysis of how fire, ice, and lightning magic affect their targets.

Data collection required.
Hit enemies vulnerable to fire, ice, or lightning attacks using the appropriate magic. (Number of attacks: 1 for each element)
Wind Materia

The Stagger Effect Pt. 1

Staggering a foe can be greatly advantageous in battle. Development of support materia capable of effectively triggering this state is currently being considered.

More field data needed to prove efficacy.
Use unique abilities on staggered enemies and charge the ATB gauge 10 times.
First Strike Materia

The Stagger Effect Pt. 2

Research shows that staggering one's foes positively impacts morale in battle. I aim to analyze this phenomenon and replicate a similar sensation via materia.

More data is required before pursuing development.
Stagger 15 enemy types.
ATB Boost Materia

Combat Simulation: Shiva

Data compiled on the ice element has resulted in the successful reproduction of Shiva, the lady of frost. Combat behavior has yet to be tested.

Engage in simulated battle to gauge performance.
Defeat Shiva.
Shiva Materia

Monster Bio Pt. 2

The extreme conditions under which certain monsters thrive have provided them with unique self-preservational instincts. My aim is to harness this skill in the form of materia.

Assess enemies to provide further intel.
Assess 10 enemy types.
Steadfast Block Materia

Magic Elements Pt. 2

Tests have shown that striking anorganism with an element against which it is weak will impair its defense. Aiming to develop materia that makes use of this discovery.

FUrther field data required to determine viability of development.
Exploit weaknesses of 15 enemy types.
Steal Materia

The Manipulation Technique

No two battles are ever the same. Utilizing the various situations that arise during combat, I aim to develop materia capable of emotional manipulation. I expect this to lead to higher combat efficiency. Development likely viable, pending additional data.

Overwhelm targets in combat to provide further intel.
Defeat 2 or more enemies with a single attack.
Provoke Materia

Monster Variants Pt. 1

Many monsters have subspecies, and much can be gleaned from the morphological disparities between each. They may even help shed light on the development of interlocking materia.

More data required to test theory.
Defeat monsters of 3 unique variants.
Synergy Materia

Combat Simulation: Fat Chocobo

Data compiled from monsters has resulted in the successful reproduction of a fat chocobo, the spirit often associated with fertility and harvests. Combat behavior has yet to be tested.

Engage in simulated battle to gauge performance.
Defeat a fat chocobo.
Fat Chocobo Materia

Monster Bio Pt. 3

The extreme conditions under which certain monsters thrive have provided them with a collective intelligence. I seek to understand this unique ability and reproduce it via materia.

Assess targets to provide further intel.
Assess 20 enemy types.
Item Master Materia

The Stagger Effect Pt. 3

While analyzing the stagger effect, I verified the existence of a peculiar behavior presumed to be an acute response to stress. Theories suggest this effect can be harnesses as materia.

Further field data required before pursuing.
Increase stagger damage bonus to 200%.
Parry Materia

Refocus Analysis

The activation of Refocus results in an accelerated attack frequency. Could applying said phenomenon to materia produce similar effects in allies?

Further field data required to prove validity.
Trigger Refocus 2 times.
ATB Assist Materia

The Stagger Effect Pt. 4

Research into the stagger mechanism still ongoing. Findings suggest that support materia could be used to increase one's advantage when target is staggered. Development being optioned.

Further field data required before confirming hypothesis.
Stagger 40 enemy types.
ATB Stagger Materia

Combat Simulation: Leviathan

Data compiled from elemental magic has resulted in the successful reproduction of serpent god Leviathan. Combat behavior has yet to be tested.

Engage in simulated battle to gauge performance.
Defeat Leviathan.
Leviathan Materia

Monster Bio Pt. 4

The extreme conditions under which certain monsters thrive have imbued them with the ability to clone and imitate other species. My I'm is to harness this skill in the form of materia.

Assess enemies to provide further intel.
Assess 30 enemy types.
Enemy Skill Materia

Weapon Abilities

It is said that special abilities may only be attained through rigorous training, but investigating this tried-and-true method could yield new combat support materia.

Confirmation requires more field data.
Acquire 16 weapon abilities.
Skill Master Materia

MP Consumption

Magical efficacy has been shown to be proportional to MP consumption. Could research into a wide variety of magical invocations reveal that the production of MP cost-reducing materia is within reach?

Further field data required to confirm hypothesis.
Master all 12 types of Magic Materia.
MP Absorption Materia

Monster Variants Pt. 2

Data from monster experiments reveals greater restorative capabilities in certain varieties compared to others in their species. Looking to harness this phenomenon in materia form.

Further field data required before pursuing.
Defeat monsters of 10 unique varieties
HP Absorption Materia

Combat Simulation: Bahamut

Data compiled from all existing tests has resulted in the successful reproduction of Bahamut, king of dragons Combat behavior has yet to be tested.

Engage in simulated battle to gauge performance.
Defeat Bahamut.
Bahamut Materia
Gallery
[
]