Me and my chocobo just go wherever the trail leads us...

Bartz Klauser
Bartz Klauser (known as Batz in Final Fantasy: Legend of the Crystals, and Butz in Japan) is the main protagonist of Final Fantasy V. His mother died when he was young, and his father died three years ago, but on advice from his father, Bartz decided to explore the world.
Before the player names him, Bartz is known as ?, or ??? in the Advance version.
Appearance
Edit
Bartz has a slim muscular build. He has white hair in Yoshitaka Amano's artworks, with a tight-fitting shirt and trousers with various beads and sashes. In Dissidia Final Fantasy series, this is his primary appearance as his hair is pale brown.
His sprite art depicts him with brown hair, wearing a blue tunic, white shirt and trousers, and sometimes a red cape. Bartz's eyes are gray or brown depending on the source. In sprite form, his eyes are blue. Officially, he is the tallest of the playable party. When he takes on different jobs, his battle sprite changes accordingly. His freelance attire later became one of his alternate costumes in Dissidia Final Fantasy and Dissidia 012.
Bartz's Dragoon resembles Kain Highwind's armor in Final Fantasy IV. Bartz's Mystic Knight costume resembles the attire of Minwu from Final Fantasy II.
Personality
Edit
Bartz is described as "a simple wanderer." He starts his adventure with no further ambitions than exploration as that is what his father wanted, and so he initially rejects Lenna's invitation to join her. His conscience (along with Boko's intervention) makes him change his mind, and shortly thereafter he is chosen to be a Light Warrior by the Crystals. This forces Bartz to mature and form a greater sense of responsibility to the world, much like his father had. Despite the gravity of the situation, Bartz retains his easygoing and friendly nature, and remains levelheaded to the point of being facetious, remarking the others are always "going overboard." Bartz cares for his friends and is still affected by his parents' deaths, even though he struggles verbalizing his feelings. Bartz has a fear of heights dating back to a childhood incident of playing hide-and-go-seek and almost falling from a roof of a two-story house.
Gameplay
Edit
Bartz is the most available playable character, so the player may make him the primary damage dealer with physical jobs, such as Knight, Monk, or Gladiator. The player also has the choice to make him the healer with robe classes, such as White Mage, Blue Mage, or the Chemist, since he's always in the party.
In the Game Boy Advance and subsequent versions, Bartz has the innate element of Wind, and therefore the Gladiator's Finisher ability will take this element.
While any character can play the various pianos interspersed throughout Final Fantasy V, it's implied that Bartz is the one doing so. This is supported by his description in Final Fantasy All the Bravest.
Each playable characters have slightly different base attributes and they are therefore slightly better suited for different task(s). Bartz has the highest raw Strength and lowest raw Magic, meaning he's more suitable to use a job that focuses on physical strength. Below are his default stats, and the highest values they can be through job mastery.
Musical themes
Edit
Bartz's theme is generally considered to be "Home Sweet Home," which plays in Bartz's hometown of Lix.

Other appearances
Edit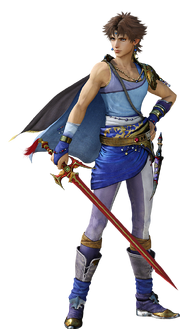 Bartz has made appearances in the following games in the Final Fantasy series:
Non-Final Fantasy guest appearancesEdit
Bartz has made key guest appearances in the following non-Final Fantasy games:
Merchandise
Edit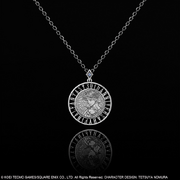 In May 2018 Square Enix releases a silver Bartz pendant with a blue gem as part of the Final Fantasy 30th Anniversary campaign. The reverse side of the pendant simply reads "Final Fantasy" with a carving of a crystal. Bartz is depicted in his Dissidia Final Fantasy appearance, and is released alongside pendants of the other Final Fantasy protagonists.

Chibi job artwork
Artwork
Screenshots
Other
Etymology
Edit
Bartz is the pet name for Bartolomäus, the German form of Bartholomew. [view · edit · purge]Bartholomew is a Hebrew name that means "son of Talmay". Talmay is a Hebrew name meaning "he of many furrows", or one who owns large tracts of land.
[view · edit · purge]Klauser is a German family name derived from the medieval given name Klaus, short for Niklaus or Nicholaus, which means "people's victory".
Bartz is actually an alternate possible latinization of バッツ (Battsu), which was originally envisioned to be latinized as "Butz,", but was likely changed by the localization team for fear that it would be mispronounced as "butts". The latinization "Butz" can be seen as early as the 1992 Japanese official strategy guide, and since then more prominently in Final Fantasy Art Museum and Japanese versions of Dissidia titles. In the English version of Final Fantasy: Legend of the Crystals he is referred to as "Batz," another transliteration of his Japanese name.
Butz is an existing German surname that emerged in medieval times as one of the notable families in Austria.[2]
In the trailer for the iOS port of Final Fantasy V, both the Japanese and international names are shown for Bartz: "Bartz" is shown in the in-game cutscenes and battle shots, while "Butz" is shown in the part where the playable characters are presented.
References
Edit
Community content is available under
CC-BY-SA
unless otherwise noted.