Cid Pollendina
:
Oh, shut up and help me remodel the Barrier Grove page!
Please expand this article into a full one. The following tasks need to be completed:This request can be discussed on the associated discussion page. Remove this notice upon completion.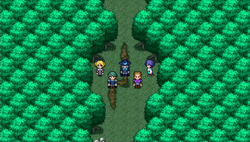 Barrier Grove is a location in Final Fantasy Dimensions. It's located to the north of Lufenia Ruins. Without the blessing from Oracle of Lunfenia, nobody can pass the Barrier Grove as they will find themselves trapped in an infinity loop and can't go further.
Story
Treasure
Gallery