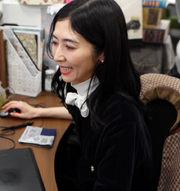 Ayumi Namae (生江亜由美, Namae Ayumi?) is an artist and designer that works at Square Enix. Her first credit in the Final Fantasy series was for the release of the 2006 main entry Final Fantasy XII, where she worked on art and design, designing outfits for the game such as Ashelia B'nargin Dalmasca's wedding dress in the opening scene and Penelo's dancer outfit.[1] After her work on Final Fantasy XII concluded she moved on to work on Final Fantasy XI Online where she worked on 2D design for new models, as well as the artifact gear for the Corsair, Blue Mage, Scholar, Puppetmaster and Dancer jobs.[2]
As the same time she began work on Final Fantasy XIV Online where she once again provided 2D art and design not only for important NPCs, but also for player character gear and weapons, including the artifact equipment for Job classes, and continued on this role as Lead character concept artist[1] through the game's relaunch as A Realm Reborn and through it's expansions.[2]
Ayumi Namae is credited for designing many of the main characters featured in Final Fantasy XIV, including the Leveilleur twins, Alisaie and Alphinaud, the Senna siblings, Raya-O, Kan-E and A-Ruhn as well as Thordan VII, Yugiri Mistwalker. Krile Mayer Baldesion, Thancred Waters, Y'shtola Rhul, Lyse Hext, Yotsuyu goe Brutus, Ryne, and the various updated looks for the main characters, such as the Final Fantasy XIV: Heavensward look for Alisaie and the Final Fantasy XIV: Shadowbringers looks for Y'shtola and Urianger Augurelt.[1][3] She also designed the game's interpretation of the Viera, defining things such as the facial characteristics.[1][4]
Ayumi was a special guest during the 2019 edition of the Paris Final Fantasy XIV Fan Fest, where there was a gallery with her various works on the game.[1][2][5]
Work within the series
[
]
| Game Name | Role |
| --- | --- |
| Final Fantasy XII | Art Design, 2D Art (Movie Costumes for NPC/PC) |
| Final Fantasy XI Online | 2D Art (New Models / NPCs) |
| Final Fantasy XIV Online | Lead Character Concept Artist, 2D Art (PC, NPC, Gear, Weapons, etc.) |
| Final Fantasy XIV Online: A Realm Reborn | Lead Character Concept Artist, 2D Art (PC, NPC, Gear, Weapons, etc.) |
| Final Fantasy XIV Online: Heavensward | Lead Character Concept Artist, 2D Art (PC, NPC, Gear, Weapons, etc.) |
| Final Fantasy XIV Online: Stormblood | Lead Character Concept Artist, 2D Art (PC, NPC, Gear, Weapons, etc.) |
| Final Fantasy XII: The Zodiac Age | Art Design |
| Final Fantasy XIV Online: Shadowbringers | Lead Character Concept Artist, 2D Art (PC, NPC, Gear, Weapons, etc.) |
| Dissidia Final Fantasy NT DLC | Alternate costume design for Vaan |
Gallery
[
]
References
[
]