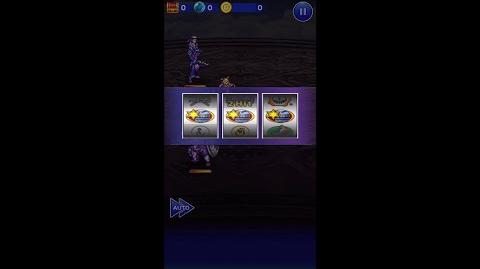 Aurochs Reels (オーラカリール, Ōraka Rīru?, lit. Aurochs Reel) is a recurring ability mostly associated with Wakka from Final Fantasy X. It is a slot ability that combines elemental and statuses in its effects.
Appearances
Edit
Aurochs Reels is one of Wakka's Slots abilities in his Overdrive. Wakka spins the slots, with a combination of the Element and Status Reels. If the three Besaid Aurochs symbols are lined up, Wakka will unleash a huge non-elemental, non-status attack on all enemies.
All outcomes have a damage constant of 34, except the 3xBesaid Aurochs symbols which have a damage constant of 72.
Aurochs Reels can be acquired in a blitzball tournament once the party has appeared in 450 battles (cumulative amount of times) outside of Monster Arena and after unlocking Status Reels.
Aurochs Reels is a Soul Break ability usable by Wakka. It is based on its Final Fantasy X appearance. It can be used when Wakka equips the Over the Top weapon.
Etymology
Edit
Aurochs Reels refers to the Besaid Aurochs, the blitzball team Wakka plays for. [view · edit · purge]The aurochs, is an extinct type of large wild cattle that inhabited Europe, Asia, and North Africa. It is the ancestor of domestic cattle. The species survived in Europe until the last recorded aurochs died in the Jaktorów Forest, Poland in 1627.
Community content is available under
CC-BY-SA
unless otherwise noted.