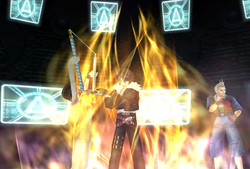 Casts Auto-Life and Regen on one party member.
Aura (オーラ, Ōra?), also known as FireX, is variously a spell or an ability that provides various beneficial effects unique to each game it appears in.
Appearances
[
]
Enhances effectiveness against various foes.

Description
Aura is a Black Magic spell that adds monster types to physical attacks depending on its level. Any character can learn Aura by the use of Aura Tome (Aura Scroll in Origins).
Aura Tome
Effect
Allows the target to learn Aura when used outside of battle. Casts Aura VIII when used in battle.
Find
Fynn Castle, Raqia
Drop
Sorcerer
Aura adds the following effects per success:
Extra damage vs. Flying
Extra damage vs. Aquatic
Extra damage vs. Earth
Extra damage vs. Giants
Extra damage vs. Spellcasters
Extra damage vs. Dragon
Extra damage vs. Werebeasts
Extra damage vs. Undead
The spell is bugged in the NES version, as it does not grant its extra bonus at level 8.
Aura is Bahamut's "White" effect and grants the party Haste. A similar effect can be gained by singing the Minuet song with the Loki Harp equipped.
Aura grants the Aura status, which increases the chance of the affected character getting a Limit Break and allows them to get Limit Breaks outside of being in HP Critical health. Being under the effects of Aura boosts the character's Crisis Level, enhancing their Limit Breaks as well. Its effect lasts 6.6 seconds. The affected character is shrouded in yellow hues. Aura also cures the negative status Curse.
Used as junctioning magic, Aura will highly increase the Luck stat and can be junctioned to status defense to make a character immune to Curse. Aura is a very rare magic: the only enemy to carry Aura for drawing is Seifer. Otherwise, Aura must be refined from items, or drawn from draw points, such as on the Island Closest to Heaven and Island Closest to Hell.
Aura can be used on or by opponents, which causes their strength to temporarily increase and may allow them to use new abilities. For example, Aura allows the aerial monster Thrustaevis to use its Wind Blast attack, the mechanical monster GIM52A to use the Blue Magic Ray-Bomb and allows Raijin to use Raijin Special.
Casting Aura in battle increases compatibility with Carbuncle by 1, and with Cerberus by 0.2, but lowers compatibility with Eden by 0.2.
Aura is Amarant's Flair ability that grants Regen and Auto-Life. It can be learned by equipping the Scissor Fangs or Duel Claws. It takes 25 AP to learn and 12 MP to cast. When Amarant is in Trance, Flair changes into Elan and all Flair skills affect all targets in a group, either enemies or allies.
Embrava is a white magic and enhancing magic aligned with the light element exclusive to Scholars of level 5 and higher under the effect of Tabula Rasa. The spell takes 20% of one's maximum MP to cast, targets a single player, and lasts for 5 minutes, although Strategems are commonly used to reduce this cost, extend this duration, and target an entire party at a time.
While the precise magnitude of the effect is dependent on the Scholar's Enhancing Magic skill, at the present time the effect gives a substantial Haste, Regen, and Regain effects. Because this effect is its own separate status, it stacks with the Haste and Regen spells.
Aura is an ability exclusive to Lightning in Conjurer role available in special downloadable content episode, "Requiem of the Goddess". It removes all buffs and casts Bravery, Faith, and Haste for 5 ATB. It is learned at level 5.
Enhances aura to bestow auto-life and auto-regen.

Description
Aura is a Defender ability that grants Regen and Auto-Life, and is learned for 300 AP from the Lohengrin.
Aura is a Defender ability that grants Regen and Auto-Life, and is learned from the Lohengrin for 400 AP. It costs 28 MP to cast.
FireX is a Lost Magic spell deals Fire-elemental damage to one enemy. It cost 32 MP to use, and it can be found in Shar (Talon).

Aura appears a White Magic spell and costs 2 AP to cast. When the spell is used it increases all status levels by 10%. The spell can be given to any character by having a Aura Tome in the character's inventory. The spell can be purchased for 2,500 gil in Spelvia after darkness floods the world.

Reduces physical damage received and increases ATK for a single ally.

Description
Aura is a Fusion Ability that raises party's attack power. It is exclusive to the Warriors of Light and cost 16 MP to cast. Aura requires the character to have White Mage's Protect and Bard's Power Song mastered.
Aura is Bahamut's ability when summoned. It increases the summoner's Brave by increments of 20 or 40 over a period of time, depending on if Bahamut was summoned manually or automatically.
A different type of Aura is also available in story mode. It fills the EX Gauge by 50% at the start of the next battle.
You've awakened the genius!

Laguna Loire when activating EX Mode
Laguna's EX Mode casts Aura on him, coloring his weapons gold and letting him cancel out the lag of his Bravery attacks by using another Bravery attack afterward.
Bahamut can cast Aura on the party, but with modified effect. The manual version raises Bravery by increments of 99, while the automatic version raises it by 66. However, Bahamut's effect duration is shorter than before.
Gallery
[
]
Etymology
[
]
[view · edit · purge]In parapsychology and many forms of spiritual practice, an aura is a field of subtle, luminous radiation surrounding a person or object (like the halo or aureola in religious art). The depiction of such an aura often connotes a person of particular power or holiness.