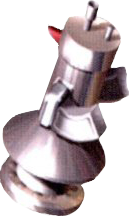 Assault Gun (アサルトガン, Asaruto Gan?) is a recurring weapon in the Final Fantasy series, commonly used by Barret Wallace.
Appearances
[
]
Assault Gun is the second weapon for Barret, obtained by defeating Guard Scorpion and later buying for 350 gil at Sector 7 and Wall Market. It provides 17 Attack, 98 Atk%, 1 Magic, is a long-ranged weapon, and has two linked materia slots with Normal growth rate.
The Assault Gun is renamed "Light Machine Gun", and is obtained at the end of Chapter 6 - Light the Way from Biggs.
Gallery
[
]
Etymology
[
]
An assault gun is a gun or howitzer mounted on a motor vehicle or armoured chassis, designed for use in the direct fire role in support of infantry when attacking other infantry or fortified positions.