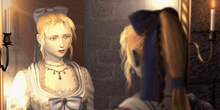 "Aria di Mezzo Carattere" ("Aria of Half Character") (アリア, Aria?) or "Aria Di Mezzo Carattere" is an aria from Opera "Maria and Draco", composed by Nobuo Uematsu and lyrics written by Yoshinori Kitase for Final Fantasy VI. It is sung by Celes Chere, while impersonating the opera singer Maria, during the party's attempt to contact Setzer Gabbiani.
Featured in the album Final Fantasy VI: Grand Finale is a live version of the aria performed in Italian by soprano Svetla Krasteva. The aria is also found in the second full motion video included in Final Fantasy VI as part of Final Fantasy Anthology and Final Fantasy VI for the PlayStation in Europe and Australia with the same lyrics but a different musical arrangement.
An arrangement version also appears on the Final Fantasy Orchestra Album.
Japanese lyrics
[
]
いとしの あなたは
とおいところへ?
いろあせぬ とわのあい
ちかったばかりに
かなしい ときにも
つらいときにも
そらにふる あのほしを
あなたとおもい
のぞまぬ ちぎりを
かわすのですか?
どうすれば? ねえあなた?
ことばをまつ
ありがとう わたしの
あいするひとよ
いちどでも このおもい
ゆれたわたしに
しずかに やさしく
こたえてくれて
いつまでも いつまでも
あなたをまつ
愛しのあなたは
遠いところへ?
色あせぬ永遠の愛
誓ったばかりに
悲しいときにも
つらいときにも
空に降るあの星を
あなたと思い
望まぬ契りを
交わすのですか?
どうすれば? ねえあなた?
言葉を待つ......
ありがとう わたしの
愛する人よ
一度でもこの想い
揺れたわたしに
静かに優しく
こたえてくれて
いつまでも いつまでも
あなたを待つ......
Rōmaji

Itoshino anata wa
Tōi tokoro e?
Iroasenu towa no ai
Chikatta bakari ni
Kanashī toki ni mo
Tsurai toki ni mo
Sora ni furu ano hoshi o
Anata to omoi
Nozomanu chigiri o
Kawasu nodesu ka?
Dōsureba? Nē anata?
Kotoba o matsu......
Arigatō watashi no
Aisuruhito yo
Ichido demo kono omoi
Yureta watashi ni
Shizuka ni yasashiku
Kotaete kurete
Itsu made mo itsu made mo
Anata o matsu......
Unofficial English translation

Does my dearest love
Far away go?
The unfading eternal love
I had just sworn upon?
Even when I am sad
Even when it is painful
That star falling in the sky
I think is you
That unwanted vow,
shall I exchange it?
What will do you? Oh my dear one?
I await your words......
Thank you
My beloved one
Not even once
Have I forsaken this feeling
Quietly and kindly
Please give me an answer
Forever, forever
I shall wait for you......
English lyrics
[
]
GBA version

[

]

O my hero, my beloved,
Shall we still be made to part,

Though promises of perennial love
Yet sing here in my heart?

I'm the darkness,
You're the starlight
Shining brightly from afar.

Through hours of despair,
I offer this prayer
To you, my evening star.

Must my final vows exchanged
Be with him and not with you?

Were you only here
To quiet my fear...
O speak! Guide me anew.

I am thankful, my beloved,
For your tenderness and grace.

I see in your eyes,
So gentle and wise,
All doubts and fears erased!

Though the hours take no notice
Of what fate might have in store,

Our love, come what may,
Will never age a day.
I'll wait forevermore!

SNES version

[

]

Oh my hero,
so far away now.
Will I ever see your smile?

Love goes away,
like night into day.

It's just a fading dream...

I'm the darkness,
you're the stars.
Our love is brighter than the sun.

For eternity,
for me there can be,
only you, my chosen one...

Must I forget you?
Our solemn promise?
Will autumn take the place of spring?

What shall I do?
I'm lost without you.
Speak to me once more!

We must part now.
My life goes on.
But my heart won't give you up.

Ere I walk away,
let me hear you say,
I meant as much to you...

So gently,
you touched my heart.
I will be forever yours.

Come what may,
I won't age a day,
I'll wait for you, always...
Italian lyrics
[
]
Amor mio, caro bene,
perché vai lontan da me?
Giurasti un amor che mai non dovea
aver fine per noi...
Nei momenti di tristezza,
nei momenti di dolor,
a te, mia stella, penso con infinito
ardore...
Un legame senza speme
perché mai dovrei aver?
Che cosa tu vuoi
ch'io faccia oramai
mi devi dire tu...
Ti ringrazio, caro bene,
amor mio, vita mia.
Al grave doler, al buio timor,
che il cuore mi turbò...
Dolcemente, con amore,
hai risposto al mio gridar.
Per sempre ognor, per sempre ognor
qui a me t'attenderò!
Amor mio, caro bene,
perché vai lontan da me?
Giurasti un amor, che mai non dovea
aver fine per noi.
Nei momenti di tristezza
Nei momenti di dolor,
A te, mia stella, penso
con infinito ardore,
Un legame senza speme
perché mai dovrei aver?
Che cosa tu vuoi ch'io faccia oramai,
mi devi dire tu.
Ti ringrazio, caro bene,
amor mio, vita mia,
Al grave doler, al buio timor
che il cuore mi turbò,
dolcemente, con amore
hai risposto al mio gridar,
per sempre ognor, per sempre ognor,
qui a me, t'attenderò.
Unofficial English translation

My love, dear one
Why do you go so far from me?
You swore a love that should have never
Had an end for us
In times of sadness
In times of pain
I think of you, my star,
With infinite ardor
Why must I have
A bond without hope?
What would you have me do now?
You must tell me
I thank you, dear one
My love, my life
To the grave sorrow, to the dark fear
That disturbed my heart
Sweetly, with love
You have answered to my cries
Forever, every day, forever, everyday
I shall wait for you here
French (European GBA version) lyrics
[
]
French

Ô mon chéri, mon bien-aimé,
devons-nous nous séparer

au moment où nous nous sommes juré
notre amour pour l'éternité?

Il est l'étoile
qui brille au loin
dans l'obscurité sans fin.

Le jour et la nuit,
je ne pense qu'à lui,
à mon étoile du matin...

Comment puis-je jurer d'aimer
un homme autre que celui

qui est ma seule et
unique destinée?
Mon cœur est tourmenté...

Mille mercis, mon bien-aimé,
pour ta tendresse, ta bonté.

Ton ardeur passionnée
a su effacer
toute mon anxiété.

Bien que j'accepte mon triste sort,
jamais je ne t'oublierai.

Les flammes de l'amour
brûleront toujours,
même au-delà de la mort!

Unofficial English translation

Oh my darling, my beloved
Shall we part ways
At the time we sworn
Our love for all the eternity?

He is the star that shines from afar
In the endless darkness.
Day and night, I think of no other than him
Of my morning star...

How can I swear to love
A man other than the one
Who is my one and only destined?
My heart is tormented

A thousand thanks, my beloved
For your tenderness, your kindness
Your passionate fervor, managed to erase
All of my anxiety

Although I accept my sad destiny,
I will never forget you.
The flames of love shall burn forever
Even beyond death!
German (European GBA version) lyrics
[
]
German

Mein Geliebter, gingst hinfort du
in ein unerreichbar' Land?

Wiewohl wir uns schwor'n auf Ewigkeit treu,
sollt' uns're Liebe stets währ'n.

In trostlosen, dunklen Stunden
gleit' mein Blick zum Firmament.

Der Stern, der dort steht, erstrahlt, nie vergeht
ist deiner Herzlichkeit Blick.

Mein Liebe soll ich opfern
einem kalt erstarrten Herz.

Was bleibt mir zu tun? Oh, sag es mir schon!
Ich harr' der Worte dein.

Sei gepriesen, mein Geliebter,
stets weilst du in meinem Herz.
Mit kreiselndem Schritt mein Kummer nahmst mit
von Sorge bin ich nun frei.

Deine ruhige, sanfte Stimme
raunet tröstend in mein Ohr.
Auf ewig will ich ihr lauschen und dich
erwarten, wie ich schwor!

Unofficial English translation

My beloved, you left
to an unreachable land?
Just as we have sworn to be faithful for eternity,
our love shall last forever.

In hopeless, dark hours
I glance at the heavens,
The star that stands there, shines and never fades,
it's your heartwarming gaze.

Am I supposed to sacrifice my love
to a cold, frozen heart?
What is left for me to do? Oh, tell me!
I'm waiting for you to give me a hint.

Be praised, my beloved
You are always in my heart.
With a graceful step you took my sorrow,
now I'm free of worry.

Your calm, gentle voice,
a comforting whisper in my ears.
I will listen to it forever and
wait for you, as I have sworn.
Spanish (European GBA version) lyrics
[
]
Spanish

Héroe mío, luz de luna
que bañas mi corazón...

Mi amor inmortal por siempre estará
renovando promesas...

El olvido,
la tristeza...
No me vencerán jamás.

En la tempestad,
recuerdos de ayer
dan calor a mi alma.

¡Cruel destino! Sus caprichos
me han alejado de ti...
Si no estás aquí no puedo vivir...
Regresa pronto a mí...

Amor mío, te agradezco
tu bondad y tu candor.
Es tu bendición la fuerza interior
que me guía al mañana.

El silencio me traiciona
con el eco de tu voz.

Ni en la oscuridad
se marchitará
la flor de este amor.

Unofficial English translation

My Hero, moonlight
You bathe my heart
my undying love, will be forever
Renewing promises

Forgetfulness, sadness
Will never defeat me
In the storm, memories of yesterday
They warm my soul

Cruel fate, its whims
They have kept me from you
If you're not here, I can not live
Come back soon to me.

My love, I thank
Your goodness and candor
Is your blessing, the inner strength
That guide me to tomorrow

The silence, betrays me
With the echo of your voice.
Even in the dark, will not wither
This love's flower
Korean lyrics
[
]
Korean

사랑하는 그대는
머나먼 곳으로
변하지 않을 영원한 사랑
우리 맹세 했는데
슬플 때도 힘들 때도
가슴이 미어져도
저 밤하늘에 쏟아지는 별
당신이라 생각하며
원치 않는 언약을
맺어야만 할까요?
대답 해 줘요 나의 그대여
어찌 해야 하나요
고마워요 그대여
사랑하는 이여
잠깐이나마 나의 마음이
흔들리려 했을 때
포근하고 잔잔하게
대답 해 주어서
맘 변치 않고 오직 그대를
기다리겠어요
Romaja

Saranghaneun geudaeneun
Meonameon goseuro
Byeonhaji aneul yeongwonhan sarang
Uri maengse haenneunde
Seulpeul ttaedo himdeul ttaedo
Gaseumi mieojyeodo
Jeo bamhaneure ssodajineun byeol
Dangsinira saenggakamyeo
Wonchi anneun eonyageul
Maejeoyaman halkkayo?
Daedap hae jwoyo naui geudaeyeo
Eojji haeya hanayo
Gomawoyo geudaeyeo
Saranghaneun iyeo
Jamkkaninama naui maeumi
Heundeulliryeo haesseul ttae
Pogeunhago janjanhage
Daedap hae jueoseo
Mam byeonchi anko ojik geudaereul
Gidarigesseoyo
Allusions in the Final Fantasy series

[

]
The aria has become associated with Celes as such that it is referenced in her crossover appearances throughout the greater series.
This section is empty or needs to be expanded. You can help the Final Fantasy Wiki by expanding it.