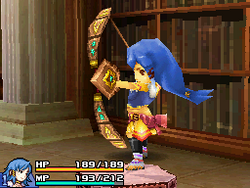 A giant bow that fires a massive bolt. Can even knock down castle walls.

Final Fantasy Crystal Chronicles: Echoes of Time description
Arbalest (アルバレスト, Arubaresuto?) is a recurring weapon in the series.
Appearances
Arbalest is a marksmanship weapon that provides 29 damage and 288 delay. It deals 6.04 damage per second and accumulates 76 TP per hit. It can be equipped by level 50 Warrior, Thief, Dark Knight, Ranger.
It can be bought for 255 Sparks of Eminence from Isakoth in Bastok Markets (E-11), Rolandienne in Southern San d'Oria (G-10), Fhelm Jobeizat in Windurst Woods (J-10), and Eternal Flame in Western Adoulin (H-11).
Great, destructive bow that shakes the ground.

Description
Arbalest is the third strongest greatbow, providing 42 Attack and 7 Range, as well as being Earth-elemental.
The reverberating thud as the base of this massive bow is thrust into the earth sends enemies running in terror. They will have to run very far indeed.

Description
Arbalest is the fourth strongest greatbow, providing 41 Attack, 5 Defense, 5 Resistance, and 7 Range, and also carries the Earth element. It can be obtained through the Strength of Earth B set from the Bazaar.
Arbalest is a piercing dagger that provides 4 RISK, 23 Strength, -5 Agility, and 12 Range.
Arbalest is a mid-ranked bow that provides 60 Attack, 10 Defense, +25 Stun, and has three slots available.
Gallery
Etymology
The arbalest was a late variation of the medieval European crossbow coming into use during the 12th century.
Community content is available under
CC-BY-SA
unless otherwise noted.