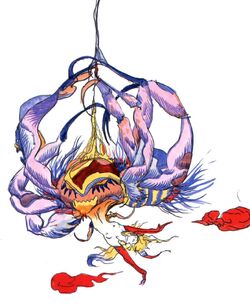 Arachne (アルケニー, Arukenī?), also known as Tarantula, is a recurring enemy in the series. It is a giant spider with a torso of a woman.
Appearances
[
]
Arachne is an enemy fought at Passage of the Eidolons. It attacks with nothing but Earthquake, making it exceptionally dangerous to the party if they do not have Float. Otherwise, they are easy to defeat and of no threat. They can drop the rare Siren item upon defeat.

Arachne poses the same threat as in the 2D versions. Spears and bow/arrows are helpful in finishing the battle quickly.

Arachne is an enemy fought at the Challenge Dungeons for Kain and the Lunarians. It fights exactly as before, but will now counter magic attacks with its own physical attack.

Arachne is a Notorious Monster member of the Spider family. It spawns in the Kuftal Tunnel. It is weak to Ice.
Arachne Eve is the first boss of the Weeping City of Mhach raid, based on the recurring Arachne enemy. It fights the alliance with an assortment of banemite and spider minions, and weaves a massive web that must be torn down.
Arachne is a daemon fought in caves of Leide, Cleigne and during the Main Quest The Power of Kings. It is a relatively low level enemy, which employs Lightning-elemental attacks and can summon Tarantulas.

The Arachne is not a fightable enemy, but is a possible monster that the party's monster unit(s) can transform into.

Arachne is an enemy fought in the Challenge Dungeon for the Dragoon, and fights utilizing Earthquake and Web.

Gallery
[
]
Etymology
[
]
[view · edit · purge]Arachne is the name of a mythological Greek weaver who boasted she had skills surpassing that of Athena, the goddess of weaving. For this hubris, Athena transformed her and her descendants into spiders.