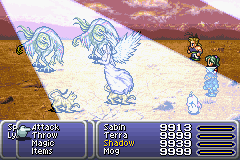 Restores HP to all allies.

Description, Final Fantasy VI.
Angel Feathers (エンジェルフェザー, Enjeru Fezā?, lit. Angel Feather), also known as Reviver, is a recurring ability in the series. It is the ability of Seraph, which generally heals the party's HP.
Appearances
Edit
Angel Feathers is the ability of Seraph. It restores HP to all party members with a spell power of 18 at the cost of 18 MP.
Angel Feathers is an ability used by the Seraphim Magicite. It restores HP to the party and reduces the chance for the enemy's status-inflicting attacks to take effect.

Etymology
Edit
[view · edit · purge]An angel is a non-physical entity or spirit found in various religions and mythologies. In Abrahamic religions and Zoroastrianism, angels are often depicted as benevolent celestial beings who act as intermediaries between God or Heaven and Earth, or as guardian spirits or a guiding influence. Other roles of angels include protecting and guiding human beings, and carrying out God's tasks. The term "angel" has also been expanded to various notions of spirits found in many other religious traditions. In art, angels are often depicted with bird-like wings on their back, a halo, robes and various forms of glowing light.
Community content is available under
CC-BY-SA
unless otherwise noted.