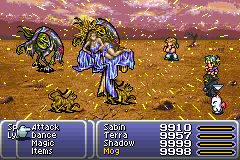 Restores HP to all allies.

Description, Final Fantasy VI.
Alluring Embrace (魅惑の抱擁 or みわくのほうよう, Miwaku no Hōyō?, lit. Charming Embrace), also known as Group Hug, is a recurring ability in the series. It is the summon ability of Lakshmi, which heals a large amount of HP to the party.
Appearances
Edit
Alluring Embrace is the ability of Lakshmi, which restores HP to the party with a spell power of 34 at the cost of 74 MP.
Alluring Embrace is the signature ability of the Primal Lakshmi. In the middle of the trial against her, she grows and enthralls the player, leaving them vulnerable to this ability. If the player is not prepared, she would then siphon energy from them, resulting in defeat. A mechanic specific to this trial, called Vril, is used to minimize the danger to the player, allowing them to continue the fight afterwards.
Community content is available under
CC-BY-SA
unless otherwise noted.