All Saints Wake is an event on Final Fantasy XIV themed after Halloween.
2013 edition
Edit
2014 edition
Edit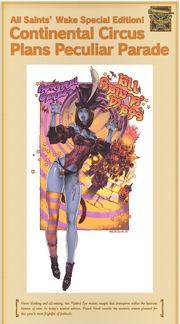 2016 edition
Edit
The Continental Circus has returned for another year of frightful fun. But to ensure their mischief does not turn to mayhem, an investigator from the Adventurers' Guild seeks an assistant in his work. Seek him out to see how you can help.
2014 edition
Edit
Eerie Hat
Eerie Robes
Eerie Tights
Eerie Crackows
Eerie Barding (for Chocobo Companion)
Pumpkin Earrings
New facepaint options available through the aesthetician.
Vampire's Vest
Continental Eye (minion)
Pumpkin Stew
All Saint's Wake Orchestrion Roll
Up at Dawn Orchestrion Roll
All Saint's Wake Orchestrion Roll
Magicked Prism (Pumpkin)
References
Edit