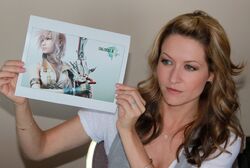 Alecia "Ali" Hillis (born December 29, 1978) is an American actress and voice actress. She voices Lightning from Final Fantasy XIII, its sequels, and Dissidia 012 Final Fantasy.
Roles
[
]
Background
[
]
Other than Lightning, she is known for providing voice for Karin in the Naruto series, Jessica Sherawat in the Resident Evil series, Dr. Liara T'Soni in the Mass Effect series, Presa from Tales of Xillia, Black Cat/Felicia Hardy in several of Marvel's films and video games, and Palutena in Kid Icarus: Uprising.
Trivia
[
]
She had a l'Cie brand tattoo during Video Game Awards 2010 in the same place Lightning has hers in Final Fantasy XIII.
External links
[
]