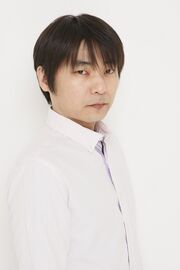 Akira Ishida (石田 彰, Ishida Akira?) born November 2, 1967 in Nisshin, Aichi is a Japanese voice actor. He was a part of Mausu Promotion (formerly known as Ezaki Production, until its 1990 change of name) from 1988 until March 2009, when he moved to Gerbera Peerless. He voiced Kuja in Dissidia Final Fantasy and its prequel Dissidia 012 Final Fantasy and Kazusa Futahito in Final Fantasy Type-0 and its prequel Final Fantasy Agito.
Roles
[
]
Related Square Enix projects
[
]
Background
[
]
He is most known for voicing Athrun Zala in Gundam Seed, Kaworu Nagisa in Neon Genesis Evangelion, and Gundam Seed Destiny, and was chosen as the most popular voice actor in the Animage Anime Grand Prix in 2004. He won the Best Supporting Character (male) award at the first Seiyu Awards in 2007, for Gaara in Naruto series and Zeref in Fairy Tail.
External links
[
]