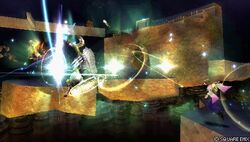 Aerospark (エアロスパーク, Earosupāku?) is a recurring ability in the series. It is an ability utilized by Ixion, and thus is also seen used by Yuna.
Appearances
Edit
Aerospark is a Rank 4 command ability used by Ixion, which deals non-elemental damage to one enemy and removes all beneficial statuses from that enemy. Aerospark is also used as an enemy ability by enemy Ixions in addition to Dark Ixion, which acts similarly to the player version although Dark Ixion's version also removes Auto-Life (which the normal Ixion ability does not do). In addition, it has a power of 22 (16 in the final battle of the game) when used by Ixions and a power of 40 when used by Dark Ixion.
Aerospark is an enemy ability used by Ixion, which deals damage equal to 5/8 of the target's remaining HP.
Aerospark is a ground Bravery attack for Yuna, obtained at level 27. It requires 30 CP to equip (15 when mastered), 80 AP to master, has Melee Mid priority on the Charge attack and Ranged Low priority on the thunder disks, can induce Chase, and is physical for the charge attack and magical for the thunder disks. The attack can be delayed by pressing

, and in EX Mode Bahamut will appear from above to blast the opponent with a single Impulse.
Aerospark is usable by Ixion when fought as a boss. It deals long-ranged physical damage to a single target and casts Dispel on them.
Aerospark is also usably by the Ixion Magicite. It deals lightning-elemental long-ranged physical damage to one target.
Etymology
Edit
[view · edit · purge]Aero is a Greek prefix relating to air and flight. Common usages in modern times include the words "aeroplane" and "aerospace."
[view · edit · purge]Spark may refer to a small glowing particle/ember or an electric spark, usually with a flash and a sharp noise.
Community content is available under
CC-BY-SA
unless otherwise noted.