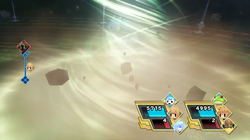 Aeroja (エアロジャ, Earoja?) is a recurring spell in the Final Fantasy series. It is the final form of the Aero spell.
Appearances
[
]
Aeroja is an area of effect spell available to high-level Black Mages (level 87). It deals Wind damage, and successive use enhances spell potency.
Aeroja is used only by the Esper Chaos. It deals heavy wind-elemental damage and may inflict Confuse to the entire party. The spell shares the same animation with the Windburst Quickening concurrence.
Aeroja is a summon attack available only for Maina when she equipped with the Grand Black Mage Vivi or the Plasir signets. The attack deals heavy wind-elemental damage to all enemies and inflicts continuous wind damage for three turns. Aeroja also deals extra damage against flying enemies. It costs 3 summon gauges to perform.
In the original free-to-play versions, Aeroja was the summon ability of the Kain and Grand Black Mage Vivi god-tier signets. The ability functioned the same as the premium release, however it was significantly weaker in potency.
Aeroga is Black Magic Lv 7 Ability that deals wind magic damage x2 to all enemies and costs 28 MP to use. It can be learned by the following units:
Unit
Rarity
Level
Karlette
5★
22
Shantotto
5★
65
Mediena
5★
68
Cid
6★
1
Veritas of the Heavens
6★
12
Yuraisha
6★
15
Malphasie
6★
43
Yego
6★
51
Barbariccia
6★
56
Lexa
6★
58
White Knight Noel
7★
101
It can be enabled through the Infiltrate Server ability for A.I. Katy (exclusively) by equipping her Trust Master or Super Trust Master Reward.
Aeroja is a tier four wind spell. It can be unlocked by having 2 members in a stack with tier three wind spells.
It is also used by Exnine Bahamut in his second battle.
Non-Final Fantasy guest appearances
[
]
Aeroja is a Genome ability in the first Bravely Default. In Bravely Second: End Layer, Aeroja is a level 1 Diabolism for the Yōkai job. The ability is associated with the Lucifer, who first appeared in Final Fantasy: The 4 Heroes of Light.
It allows the user to unleash a wind-based magic attack to deal a tremendous amount of damage to all enemies. This spell cannot be reflected. It cost 99 MP to use.
Gallery
[
]
Etymology
[
]
[view · edit · purge]Aero is a Greek prefix relating to air and flight. Common usages in modern times include the words "aeroplane" and "aerospace". The "-ja" suffix denotes it is the level four form of the base Aero spell.