Young, beautiful, and somewhat mysterious, Aerith met Cloud while selling flowers on the streets of Midgar...

Description
Aerith Gainsborough, alternately known with the first name Aeris, is a playable character in Final Fantasy VII and Final Fantasy VII Remake, being a major character in the Compilation of Final Fantasy VII; appearing in Final Fantasy VII: Advent Children, Crisis Core -Final Fantasy VII- and Before Crisis -Final Fantasy VII-
Aerith is the last of the Cetra, an ancient race with powerful magical abilities, and so the Shinra Electric Power Company hunts her throughout her life, seeking to exploit her powers. She meets Cloud Strife in Midgar, and the two become close, leading her to join his quest to fight Shinra and hunt down Sephiroth. Aerith is upbeat, carefree, and joyful, being flirtatious towards Cloud and also compassionate towards others.
Aerith wields staves in battle, and is in the back row by default, as she primarily uses magic from equipped Materia in battle. Her Limit abilities are defensive, either providing restorative powers, healing other party members, or granting them positive status enhancements.
Profile
Appearance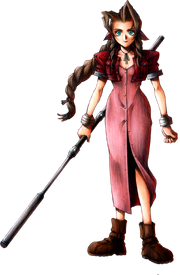 In Final Fantasy VII, Aerith wears a shin-length pink dress that buttons up the front and a red button-up bolero jacket. She wears brown boots and has metal bracers on her wrists and around the edges of her jacket sleeves. In Final Fantasy VII Remake, her dress is more detailed (pink with a white diamond pattern and a white lace hem). Her jacket is a variant of her post-Advent Children renders: it's a zip-up instead of button-up, with zipper pockets and a belt at the bottom. Her original cord necklace was replaced with a flower necklace
with a pearl in the center on a leather ribbon, and a trio of bracelets (gold, silver, and bronze) replace the metal bracers.
In all her appearances, Aerith has long plaited light brown hair with a large pink ribbon; within the ribbon, she keeps the White Materia orb given to her by her mother. Segmented bangs frame Aerith's face, and she has emerald green eyes. Due to poor conversions from centimeters to feet in English materials, Aerith's height has been listed as 5'3"[2]. Her height is actually 5.3ft, or 5ft4in.
During the Wall Market segment of the original game, she wears a red spaghetti-strapped formal gown with frill designs and red heels. Her long light brown wavy hair is let loose but retains her pink ribbon.
In Final Fantasy VII Remake, she has three dress variants that end up getting chosen based on how many of the side quests the player completes during Chapter 8: completing none has her wear a knee-length pale pink sundress and off-white heels; completing half of them has her wear a darker pink dress with an asymmetrical skirt and pink gladiator-style heels; completing all side quests has her wear a re-imagined version of her original dress.
As a young child, she wears a dark blue denim jumper dress with a light teal turtleneck, white socks, and brown shoes. Her ribbon is light teal. After her adoption, she wears a burnt orange loose collar shirt with a yellow collar, brown shorts, and a matching short boots. Her ribbon is yellow.
Aerith wears the same usual attire in Final Fantasy VII: Advent Children with new details added to her jacket, giving her two pockets on the breast and replacing the metal bands on the sleeves with leather belts. This is how Aerith appears in most of her spin-off appearances.
In Crisis Core -Final Fantasy VII-, Aerith wears a blue and white dress with a red camisole underneath and white wedge sandals with pink straps. During their first date, Zack Fair buys her the iconic pink hair ribbon, and later suggests that Aerith continue to wear pink, likely prompting her wardrobe change to what is in Final Fantasy VII. In Before Crisis -Final Fantasy VII-, Aerith wears a pink, white and red top tied around the neck with buttons up the front, and a frilly white and green skirt. In Kingdom Hearts, Aerith wears a variation of her original Final Fantasy VII attire, abandoning the jacket and bracers, and instead wears a series of metal bracelets on one arm and a thick bright blue belt. Her outfit in Kingdom Hearts II is based on her Before Crisis -Final Fantasy VII- outfit, but her skirt is pink.
Aerith is one of the few Final Fantasy characters who are of mixed race, along with Cecil Harvey, Golbez, Yuna, Terra Branford, Seymour Guado, Hilda Ware, Lilisette, and Arenvald Lentinus. She also resembles the enemy Lemure from Final Fantasy V, both being flower girls with similar clothes and hairstyles. Lemure also holds the Ribbon item, a signature part of Aerith's outfit.
Personality
You worry too much. I'm not some princess who needs to be coddled.

Aerith to Cloud, Final Fantasy VII Remake

Aerith is upbeat and joyful, and several times in Final Fantasy VII attempts to cheer up her fellow party members. Raised in the Midgar Slums, Aerith maintains that she can take care of herself and can fight off Shinra troops, as well as demonstrating more subtle forms of savvy. Aerith flirts with Cloud and possesses a carefree and naive nature, expressing a desire to fly on an airship when the party sails out of Junon.
When Aerith has made up her mind about something, she will not listen to anyone who tells her otherwise. She intuitively understands others and can lift her companion's spirits despite occasionally appearing insensitive to their point of view, such as when Barret is troubled while at the Gold Saucer. Aerith and Tifa often spend time together when the party splits up and are good friends, though both also appear slightly jealous of the other's closeness to Cloud.
As a child, Aerith was reluctant to accept her Cetra heritage, and in Final Fantasy VII, she admits to Cloud she feels lonely as the only remaining Cetra. She exhibits personality quirks, such as fearing the sky in Crisis Core -Final Fantasy VII-, claiming she can "hear the wind calling her" in Before Crisis -Final Fantasy VII-, and talking to her flowers in Final Fantasy VII Remake. Her Cetra heritage may influence these traits, allowing her to communicate with the planet.
Final Fantasy VII Remake emphasizes Aerith's will to live in the moment, cherish the present, and not take anything for granted. She shows a temper unseen in the original continuity, as she is quick to anger when insulted for her appearance. She shows more emotional scars from her childhood, crying upon remembering how her mother and friends had left her behind. She coldly defies Professor Hojo even though distressed over the treatment of her mother's remains. If the affection between her and Cloud is high enough, she will warn him against falling in love with her, cryptically saying that it wouldn't be real, though is touched over his determination to rescue her. She seems to hold intuitive knowledge of the future the Whispers want to enforce and hesitates fighting against it, expressing a personal vehemence towards Sephiroth for his selfish desire to defy destiny without care for the consequences of his actions.
Aerith is forgiving, as seen with Cloud after the events at the Temple of the Ancients. She even shows compassion to people who might not deserve the gesture, like Tseng. Aerith is portrayed as an independent, outgoing, motherly[3], and kind young woman who is deeply in-tune with nature. Her extroverted personality is a contrast to Tifa's more withdrawn and guarded mindset. In Aerith's later portrayals in Before Crisis, Crisis Core and Kingdoms Hearts her outgoing, playful nature is not as apparent and instead shows a more prayerful and dreamy demeanor.
Name
In the original English release of Final Fantasy VII, Aerith's name was transliterated as "Aeris" by SCEA. The transliteration stems from the nature of the katakana writing system and how it is used to represent loan words. The name in kana is エアリス, "e-a-ri-su". Because the Japanese language lacks a pure "th" sound, ス (su) is used as a best-fit substitute for the sound when spelling out loan words. If one translates a piece of work with relatively minimal context, however, it can be challenging to spot these cases if the intended word is not immediately apparent. The translator of Final Fantasy VII likely lacked a lot of the context discussed in the Etymology section. So, "Aeris" is the more sensible transliteration of エアリス when the word has no other context, as ス is also commonly used to represent a "solo S" in addition to a "th" sound.
Since Kingdom Hearts and all related appearances since, the official English spelling of her name was cemented as "Aerith".
An article in GameFan magazine (volume 4 issue 5, from May 1996) shows the characters known at the time. In the issue, Aerith's name was written as "Aerith", as opposed to "Aeris" found in the game. The magazine also translated Barret's name as "Bullet".[4]
Although she's never referred to as Aerith in-game before Kingdom Hearts, in the original Final Fantasy VII, she is called "Aerith" by default within the game's code. The player never sees this since the first time her name appears is after the name select screen, which defaults to "Aeris", meaning that if the name selection screen could be bypassed, her name would natively display as Aerith. This also applies for Cloud, who is called Ex-SOLDIER in the game, but this is changed when the player gets to the name selection screen where the default is "Cloud". The same also applies for Red XIII, who is called "Red" before naming him, as seen at the top of a dialogue box during the player's first interactions with him, and changes to "Red XIII" in the name selection screen.
The official English website for the 2012 PC re-release of Final Fantasy VII refers to her as "Aerith Gainsborough".[5] Despite this, the translation of the game remains unchanged from the original 1998 PC release, and "Aeris" is still the default name.
Japanese publications referring to the character with a Latin-text name have always used the name "Aerith", including the game manual with the Japanese edition of the game[6], and in the Final Fantasy VII Official Establishment File prior to its release.[7]
In early concept artwork, Nomura wrote her name closer to a straight romanization as "Earith".[8]
Story
Gameplay
Final Fantasy VII
Aerith (named Aeris in the original game) is a playable party member in Final Fantasy VII. She focuses on casting magic with high magical stats and low physical stats. She wields several staves, which often contain many Materia slots and boost her Magic. Her Limits are healing abilities and buffs. Her ultimate weapon, Princess Guard, is the only ultimate weapon with standard Materia growth, and increases in attack power proportional to killed allies. Aeris is a date option for Cloud in the Gold Saucer, and she is the easiest option to date.

Final Fantasy VII Remake
Aerith is a ranged support character who excels in spellcasting. Instead of striking with her staves, she sends magical projectiles from a distance that home in on her targets. Her unique ability, Tempest, is a ranged attack that can be charged up to deal more damage. Aerith also provides a variety of unique supportive abilities that give her unmatched utility to the party. Her unique limit breaks provide healing and support rather than dealing damage.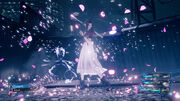 Aerith's main strength is in being the best spellcaster because she has the highest
Magic attribute in the game, and her Arcane Ward ability allows all spells cast within it to be cast twice. Aerith's damage is entirely magical, and even her regular attacks use her magic attribute. Her main issue is her very low durability, due to having the lowest HP and
Vitality attribute, and her slow mobility. However, her skillset allows her to remain at a safe distance from enemies, and her damage output can be tremendous. Aerith's role in the party is unique, and though she is locked into this playstyle, she excels at it.
Aerith joins the party in Chapter 8, "Budding Bodyguard", joining Cloud. She is present for the Odd Jobs in the chapter, and completing them will improve Cloud's affection score and determine the dress she wears in Chapter 9, "The Town That Never Sleeps". Aerith remains in the party from Chapter 8 until the end of Chapter 12, "Fight for Survival", but rejoins in Chapter 17, "Deliverance from Chaos".
Before Crisis -Final Fantasy VII-
Aerith is fought as a boss in the Training Mode.
Crisis Core -Final Fantasy VII-
Healing Wave is a Limit Break used by Zack when Aerith's portrait lines up in the Digital Mind Wave during a modulating phase. It acts similar to Great Gospel, healing Zack of all status ailments, granting him invincibility, and restoring a large amount of AP, MP and HP, possibly beyond their max amounts. Zack can use Healing Wave after meeting with Aerith, since the beginning of chapter 5.

Musical themes
Aerith's musical theme is called "Aerith's Theme". Two other pieces focusing on Aerith, "Flowers Blooming in the Church" and "Water", are derived from this central piece. Also, the background theme of the final dungeon, "The Great Northern Cave", contains a motif from her theme. Her theme has various version on the Final Fantasy VII Remake Original Soundtrack to befit different scenes with her.
A cover of "Aerith's Theme" with lyrics and the alternate title, "Pure Heart", was sung by Ritsuko Nakano (AKA Rikki) the singer of the vocal theme of Final Fantasy X, "Suteki da ne", as an additional song on the theme's album. Later versions, including versions with lyrics and orchestrated by Nobuo Uematsu, use the original title.
In 2016, during a special event titled "Awakening Cloud" for Final Fantasy Record Keeper, players were treated with a special theme, a heavy metal cover of "Fight On!" (also known as "Those Who Fight Further") that would play in the main menu screen. The theme featured a moment where the "Main Theme of Final Fantasy VII" and "Aerith's Theme" became a medley.
Other appearances
Aerith has made appearances in the following games in the Final Fantasy series:
Non-Final Fantasy guest appearances
Aerith has had key guest appearances in the following non-Final Fantasy games:
Other media
Cloud refers to Aerith in the introduction of Dead Fantasy IV as a person he said goodbye to a long time ago. Cloud's rival, Helena Douglas from Dead or Alive, resembles Aerith with the same hairstyle, but is an antagonist in the series.
Games
An NPC in the Miner quests in 1.0 version of Final Fantasy XIV mistakenly called players by the wrong name. He would call a Midlander Hyur "Cloud", and a Miqo'te "Aerith". Aerith Gainsborough is also among the names used in example sentences for the chat log filtering configuration.
Aerith's Crisis Core -Final Fantasy VII- render appears within the code for Dissidia Final Fantasy, probably because Dissidia Final Fantasy shares the same game engine as Crisis Core, so it may be leftover data. The image of a Crisis Core Tonberry also appears. Through hacking, one can control this version of Aerith. She cannot attack, only run around due to her lack of animations.[9]
When the Mysterious Old Man in Final Fantasy Dimensions tries to introduce himself as "Clou-", Alba replies by saying her name might as be "Aeri-".
In Blizzard's World of Warcraft: Wrath of the Lich King, there is an NPC flower vendor in the city of Dalaran named Aerith Primrose, wearing clothing nearly identical to Aerith's Final Fantasy VII design.
Aerith's costume appears as downloadable content for LittleBigPlanet 2, along with Cloud, Sephiroth, Vincent, and Tifa.
Aerith's outfit appears as a costume for Lyudmila N Ignatova in the third-person shooter arcade game Gunslinger Stratos 2. Announced during a Tokyo Game Show, the ensemble was released as part of a Final Fantasy-themed collaboration event for the game in November 2014.
A costume themed around Aerith's outfit is available as the 3P costume for Mirage Koas in the game Star Ocean: Till the End of Time.
Yoshitaka Amano's "Tranquility" artwork of Cloud and Aerith appears on a wall in Parasite Eve I. The picture was originally used as a cover for Final Fantasy VII: Original Soundtrack.
Parasite Eve II portrays a laboratory where Aya Brea tries to use a computer infected with a virus called "Fatekeeper". The anti-virus, "Cloud", is found inside the September issue of a magazine called "Aeris".
Aerith has been alluded to in Nintendo's Super Smash Bros. In Cloud's reveal trailer for Super Smash Bros. for Wii U and 3DS, his first meeting with Aerith is recreated with an unconscious Cloud next to a kneeling Princess Zelda holding a flower. In the next game in the franchise, Super Smash Bros. Ultimate, the player can unlock an Advent Children Cloud Fighter Spirit by performing a Cross Slash with a fully charged Limit Break. To commemorate the achievement, a picture is shown of Cloud holding Princess Zelda in water, similar to when he was laying Aerith's body to the lake in Forgotten City.
Other
In Disney's movie Wreck-it Ralph, there is a message written in graffiti outside of Game Central Station that reads "Aerith Lives". "Aerith Lives" is also a password in the Deus Ex: Black Light novel.
Behind the scenes
Character design
Original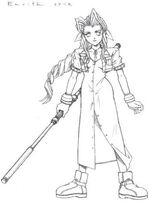 Aerith was designed by Tetsuya Nomura with influence from director and scenario writer Yoshinori Kitase and Hironobu Sakaguchi. Yoshitaka Amano created conceptual artwork of Aerith for Final Fantasy VII, which also influenced her design. Her long dress was designed to appear ladylike and as a contrast to Tifa Lockhart's miniskirt. Making Aerith's dress with polygons was difficult at the time. Still, Nomura believed that thinking about how to make it move naturally would lead to improvement of skills and rendering.[10] Her green eyes symbolize nature and serve as another contrast to Tifa's.
Aerith was, along with Cloud and Barret, one of the first three playable characters designed for Final Fantasy VII before more were added. An early demo of Final Fantasy VII includes Aerith in the attack on the Sector 5 Reactor with Cloud and Barret, but she does not appear outside of battle and does not speak. During early plans for the game, Aerith was to have the Geomancer job class. Though the final product has no job system, Aerith's Limit Breaks draw power from the earth, a typical trait of Geomancers.
In the original development materials it is stated the DNA of her mother Ifalna, not Jenova, would have been used to create SOLDIER members, and Aerith herself would have been cheerful but naive regarding men, having never been in a relationship.[citation needed] In a subplot cut from the final game, Aerith would tell Cloud stories about a nameless SOLDIER who used to buy flowers from her years ago whom she fell in love with, but her feelings were unrequited. Cloud would have deduced the unnamed SOLDIER was Sephiroth and would have gone out of his way to hide evidence of Sephiroth's true character from Aerith to avoid shattering her idealized vision of him.[citation needed] At an earlier point in development, it was considered that Sephiroth and Aerith would be brother and sister, a connection intended to be hinted at through their similar hairstyles. This was changed to Sephiroth being Aerith's former love, and then dropped.[11] Tifa would also have told Aerith the truth about Cloud and the Nibelheim Incident, including Zack's presence there when the village was destroyed.
Though he has made humorous remarks to the contrary, Tetsuya Nomura has stated that Aerith's death was always planned to be part of the plot, even when she, Cloud and Barret were the only planned characters. In an interview with Electronic Gaming Monthly, Nomura stated the following:[12]
We knew even in the early concept stage that one character would have to die. But we only had three to choose from. I mean, Cloud's the main character, so you can't really kill him. And Barret... well, that's maybe too obvious. But we had to pick between Aerith and Barret. We debated this for a long time, but in the end decided to sacrifice Aerith... In the previous FF games, it became almost a signature theme for one character to sacrifice him or herself, and often it was a similar character type from game to game, kind of a brave, last-man-standing, Barret-type character. So everyone expected that. And I think that death should be something sudden and unexpected, and Aerith's death seemed more natural and realistic. Now, when I reflect on Final Fantasy VII, the fact that fans were so offended by her sudden death probably means that we were successful with her character. If fans had simply accepted her death, that would have meant she wasn't an effective character.

Electronic Gaming Monthly[12]
Remake
For Final Fantasy VII Remake, Aerith, much like the rest of the cast, was redesigned both in terms of physical appearance and personality. In an interview with Famitsu[13], Tetsuya Nomura stated that the team decided to visually separate the two heroines, Aerith and Tifa. Aerith's beauty follows western aesthetics, while with Tifa, they emphasized the cuteness of her face to follow eastern aesthetics. In terms of personality, Aerith has the innocence of a young girl, and Final Fantasy VII Remake conveys that strongly. There is a gap between her appearance and inner personality, with her aspects of "innocence" and "beauty".
Scenario writer Kazushige Nojima has described Aerith as "the most important character in the remake" and thus paid special attention to her lines. He wrote her under the presumption that her words were filled with hints of what's to come. He got some pushback for Aerith's warning to Cloud to not fall in love with her in the Chapter 14 Resolution scene, some of the staff feeling it made her come off as looking down on Cloud. However, if viewed through the lens that Aerith knows the future, it is a powerful line, and Nojima thought the contrast was interesting.[14]
Aerith's "ghost"
Aerith's death scene in Final Fantasy VII is considered one of the notable events in the history of the series. Afterward, when returning to the Sector 5 Slums Church, two different images of Aerith may appear. One manifests for a split second in the center of the screen before disappearing, while in the other Aerith tends to the flowers before Cloud moves closer. It has been speculated that this is meant to be her "ghost".
Aerith and the Highwind
A Final Fantasy VII promotional poster of Aerith shows her standing before the Highwind, but she is gone before the player obtains it as the party's airship. Before the party's second visit to the Forgotten City, if the player talks to Cid while inside the Highwind, he will mention wanting to give her a ride in the airship. The Remake version of this poster has Aerith stand on an empty airfield, likely because Highwind does not appear in the first part of the Remake, and thus may not have had a final model yet at the time the poster as commissioned.

Advent Children development
When discussing the making of Final Fantasy VII: Advent Children, co-director Takeshi Nozue said that particular detail went into Aerith's appearance, under the belief that fans would pay close attention to her when she appeared. Tetsuya Nomura stated they knew from the beginning they would not show her face until the final scenes, and when her face was finally revealed, he thought she looked "cuter than ever".[citation needed] In the final scenes where Aerith turns to face Cloud in Final Fantasy VII: Advent Children Complete, her facial structure is redesigned from its previous appearance, in addition to having sharper graphics from the film's different format.
The members of Avalanche wearing pink ribbons in memory of her was added when it was noticed no one mentioned Aerith's name in the film; if she was not going to be mentioned in dialogue, the filmmakers wanted a visual indication that Avalanche remembers her.[citation needed]
In original concepts for Aerith's appearance to Cloud in a vision at the Forgotten City, the plan was for Aerith to appear on the back of Cloud's motorcycle and ride with him as they spoke. Motion capture for the sequence was done, but the scene was discarded when the development staff felt it would look too much like a ghost looming over Cloud's shoulder.[citation needed]
Voice
Aerith was first voiced in Kingdom Hearts, and has had several different voice actors in English. In Kingdom Hearts she was voiced by Mandy Moore; later she was voiced by Mena Suvari for Final Fantasy VII: Advent Children and Kingdom Hearts II; and she was voiced by Andrea Bowen for Crisis Core -Final Fantasy VII- and Dissidia 012 Final Fantasy.
Aerith's Japanese voice actor is Maaya Sakamoto. She shares her voice actor with Lightning from Final Fantasy XIII and Diva from Final Fantasy Type-0. Maaya Sakamoto is married to Zack's voice actor, Kenichi Suzumura.
For Final Fantasy's 30th Anniversary Celebration, Final Fantasy Record Keeper had a special commercial featuring Maaya Sakamoto and Cloud Strife's voice actor, Takahiro Sakurai.
Aerith has a pretty big moment in gaming history. It's iconic enough that everyone knows exactly what they were doing. Everyone remembers, 'it made me cry' or 'I was sitting next to my cousin' or 'I had the guide open, thinking this can't be right.' They know exactly where they were when that moment happened. And so from the very get-go, beginning my research for this project, that's the first thing I saw. Knowing that she has that place in people's hearts was a lot of pressure from the very beginning. To actually take on that challenge of giving this character life, it's been one of the most challenging and rewarding experiences of my entire life.

Briana White, GameSpot interview[15]
In Final Fantasy VII Remake, Aerith is voiced by Briana White, who runs a YouTube channel named Strange Rebel Gaming in which she streams video games. Briana auditioned not expecting to be cast, as Aerith is her first real voice acting role, and before playing the game, her only experience with the Final Fantasy series was with Final Fantasy XIV and Final Fantasy XV, which she had enjoyed.[16][17]
In preparing for the role, Briana White chose to listen to Aerith's other voice actors, disagreeing with the advice she'd received to not listen to reference. She intended to deliver a performance that honored the original while still presenting her own take on Aerith. Briana found that Aerith may only be a "sweet flower girl" in some iterations, but wanted to preserve the idea that Aerith is also "sassy, can spit fire, and doesn't need to be protected".[17] She continued to avoid playing Final Fantasy VII while recording voice lines for Aerith to keep her portrayal separate enough from the original game. However, she found many fans would still remark that her portrayal was exactly how they had imagined Aerith would sound.[15] Briana came to cherish Aerith as a well-rounded character who, though she plays with the idea of being a damsel, does not need protecting and is toying with Cloud in asking for a bodyguard.[17]
A few months following the reveal of Aerith in Final Fantasy VII Remake in 2019, Briana published a video on her YouTube channel, publicly addressing her audience and saying she is extremely excited for the game.[16] After recording the lines, she played the game and uploaded gameplay of her playthrough on YouTube in a series featuring other voice actors, beginning with John Bentley, the voice of Barret.[18] While playing the game, she noted many similarities in Aerith's personality in the original game compared with the voice lines she had recorded.[15]

Merchandise
Aerith has appeared in numerous merchandise. Her Remake flower necklace was also released as official jewelry.
Gallery
Etymology and symbolism
Aerith's name was made to sound similar to "earth" due to her connection to the planet. According to the September 1997 issue of the Famitsu magazine, "Aeris" is the transliteration of the word into katakana: "earth" turned into "earisu", Aerith's Japanese name.
Additionally, the Hebrew word עירית, ʻīrīṯ (the ṯ was pronounced th), refers to the asphodel flower. It is also a modern Hebrew girls' name, Irit. This might have been appropriate, considering Aerith's association with flowers. Because of the inexact way Hebrew treats vowels in writing, an alternate reading ʻērīṯ is also conceivable from an intuitive reading of the letters.
Her name could also be representative of Tiferet, also pronounced Tifereth, representative of the sixth Sefira in the Tree of Life, symbolizing love, beauty, and self-sacrifice. This would tie in with the larger theme Final Fantasy VII has with Jewish mysticism. Given how Tifa's concept was developed after the decision to have Aerith die, and certain characteristics originally attributed to Aerith in earlier storyboards were transferred to Tifa's storyline, it would make sense their names would derive from a split of "Tifereth".
Gainsborough is a town 15 miles north-west of Lincoln on the River Trent within the West Lindsey district of Lincolnshire, England. Many European surnames derive from locations.
Final Fantasy VII derives symbolism from Jewish mysticism, and Aerith's character may have been influenced by it as well. Sephirot are the ten attributes through which God appears, and Aerith may be tied to one such attribute, chesed, meaning kindness or love. It is a virtue that contributes to a concept translated as the healing of the world, and the concept suggests man's responsibility to repair and transform the world. The Talmud says, "the Torah begins with chesed and ends with chesed", and Aerith is the first and last character seen in the main events of Final Fantasy VII (excepting the epilogue). Those who embody chesed go "above and beyond that which is normally required", and chesed is the first of the sephirot of the attribute of action; in other words, the initiation of action. This is similar to how Aerith ventures off alone to summon Holy. The gematria (a numerological system for assigning numbers to words) of chesed is 72; Aerith's birthday is February 7th.
External links
Notes
References
Community content is available under
CC-BY-SA
unless otherwise noted.