IWILLNEVERLETYOUFORGETABOUTME

Message broadcast in radio static by Sorceress Adel
Sorceress Adel is a minor antagonist in Final Fantasy VIII. She is a powerful sorceress who once ruled Esthar and was feared the world over. The Sorceress War was fought against Adel and her nation.
Profile
[
]
Appearance
[
]
Adel has a well-built torso and her red hair is tied into a long plait. Her skin is white and her eyes are crimson. She wears a headpiece, a black skirt with frock, arm bands, and body armor (although this piece is often confused as being part of the multiple black tattoos that adorn her torso, creating the impression of her being topless). A set of tattoos delineate a mirror-image of wings on her back. In the fighting sequence the tattoo is replaced by an actual set of pinnae, or wings. Adel is at least four times the size of the average person.
Personality
[
]
Adel is said to be cruel, brutal, avaricious, power-hungry, and utterly ruthless. She has no morals or empathy, and is the epitome of pure evil. None of her actions in the game show anything more than this.
Gender
[
]
Adel is stated in the English localization to be female, and the word "sorceress" is a gender-exclusive term, however, her physique and unisex name have led to confusion. In Japanese, the term for sorceress, Majo (魔女?) (written with the characters for "magic"/"demon" and "woman") is analogous to the English word "witch". The French version at times refers to Adel as "he". The Italian version gives her the explicitly feminine form of her name "Adele".
Circumstantial evidence within the game indicates that sorceresses can only be women. All other sorceresses are women, and Adel only searches for girls to be her successor. The Final Fantasy VIII Ultimania posits that sorceresses are women[1], and Kazushige Nojima's short story, Aru Hi no Garden no Jugyō Fūkei, describes the association with Great Hyne's magic and women, and that this is the specific origin of the word Majo (魔女?).

Story
[
]
Other appearances
[
]
Adel is an enemy during the event "Showdown." In battle, Adel uses Ultima.
Adel appears in Final Fantasy Record Keeper.
Adel from Final Fantasy Airborne Brigade has a lightning-elemental card.

Behind the scenes
[
]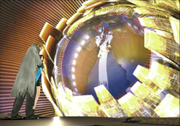 According to the Debug Menu, the FMV of Adel junctioning herself to Rinoa was going to be on Disc 3, so it is likely Adel was going to be the final boss of Disc 3 instead of Seifer, but her boss fight and FMV were moved to Disc 4 likely due to lack of disc space. This would have kept with the pattern of ending each disc with a sorceress battle.
Adel only speaks three lines throughout the game: "What is going on?" "Where?" and "You thought I would fall for that trick?" However, on Squall's visit to the Timber TV Station, several repeating phrases display on the screen, including "IWILLNEVERLETYOUFORGETABOUTME" (I will never let you forget about me), "IAMALIVEHERE" (I am alive here), and "BRINGMEBACKTHERE" (Bring me back there).

These are undoubtedly the words of Adel, whose spacebound tomb causes the worldwide radio interference down on the planet.
Prior to Adel, sorceresses seem to have an innate element or magic type they specialize in; in Edea's case it's ice, in Rinoa's case it is healing and resurrection, and in Ultimecia's case it's time and space. Adel does not have an obvious magic affinity; however, due to casting many non-elemental spells, Adel may simply be affiliated with energy and non-elemental spells in general.
In discussing the plan to take advantage of time compression, Dr. Odine suggests Adel could overrule Ultimecia's consciousness when the latter attempts to control her.
Gallery
[
]
Etymology
[
]
[view · edit · purge]Adel, like many other names that have "Adel" in them, has a meaning related to "noble" for males (it is also the Dutch, German, Danish, Norwegian and Swedish word for nobility). It is a genderless name. The female meaning of the name Adel is "God is eternal".
In the Italian version she is called Adele.
References
[
]