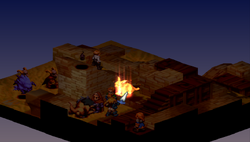 Sacrifice own HP to deal damage to others, with the nearest units suffering the most damage.

Final Fantasy Tactics description
Abyssal Blade (イービルブレード, Ībiru Burēdo?, lit. Evil Blade) is a recurring ability in the series.
Appearances
Edit
Abyssal Blade is an ability learned by the Dark Knight class for 1,000 JP. It inflicts Dark-elemental damage to one target within a range of 3, has an effect of 2, and activates immediately upon selecting the move.
The damage formula is:
$ (Physical Attack \times Magick Attack \times BF Factor) + (0.33 \times Max HP) $
Abyssal Blade is Special Ability learned by Gaffgarion at level 100 (Rarity 6★). It deals Dark elemental physical damage (x3.5) to all enemies by sacrificing 40% of his own HP.
Community content is available under
CC-BY-SA
unless otherwise noted.