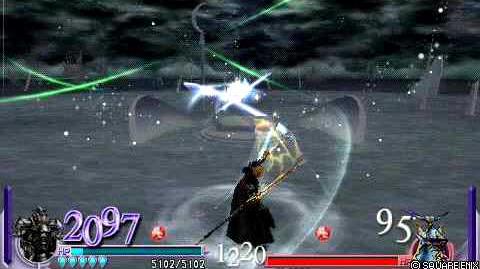 The Ability sort bug is a bug found only in the Japanese version of Dissidia Final Fantasy, which allows for the player to use abilities that should not be used outside of normal means. For instance, by using this bug, a player is able to use Gabranth's EX Mode moves while not being in EX Mode, or using moves (such as Cloud's Omnislash ver. 5) as other moves (HP attacks can be used as Brave attacks via this bug).
An instance of doing this with Gabranth is as follows:
The player enters Gabranth's ability menu
The player selects the fourth function to unequip all abilities
The player selects the first function, then selects HP attacks. One must press to select Gabranth's EX mode abilities and equip an Air HP attack and a Ground HP attack - these are the attacks that can be used only while in EX mode.
The player selects the fifth function, and presses and choose the last option.
The player selects the first option in the menu, goes to HP attacks, presses to select Gabranth's normal mode (not EX)
The player equips the abilities (air & ground) that they equipped in step 3.
The player equips all the other abilities they had before and makes sure they don't replace their newly-gained abilities.
Another instance of this bug is as follows (using Cloud and Omnislash ver. 5 as examples).
The player goes to Cloud's ability menu
The player selects the fourth function to unequip all abilities
The player equips Cloud's Slash-Blow air Brave attack and Omnislash ver. 5.
The player selects the fifth function, presses and chooses the last option.
The player replaces Cloud's Slash-Blow air Brave attack with Omnislash ver. 5, which now appears in Cloud's air Brave attacks, even if it's an HP attack
Cloud now have both Slash-Blow and Omnislash ver. 5 equipped for only 40CP instead of 55CP