2B is a summonable vision and an optional playable character in War of the Visions: Final Fantasy Brave Exvius. Known as the Blade of Quiet Volition, she serves as a character representative from Square Enix's video game, NieR:Automata.
Profile
[
]
Appearance
[
]
2B retains her appearance from NieR:Automata.
Personality
[
]
Representative characters from other games do not retain the personality of their source characters.
Gameplay
[
]
A unit of the YoRHa soldiers, a group from a faraway world made up of androids. This all-purpose combat model is capable of short-range sword attacks and is also equipped with a "pod" sub system which allows for long-ranged attacks. Her official designation is YoRHa No. 2 Type B.

Character description
2B is a UR-rarity unit of the Wind element whose main job is YoRHa No. 2 Type B, while her sub jobs are Samurai and Pugilist. She can equip the following items: Katana, Hat, Clothes, Accessory. Her unit cost is 80.
Her Master Ability increases Wind unit allies' Max HP by 10% and Wind Attack by 15, as well as her own EVA by 10. Her Limit Burst is the YoRHa Annihilation Dance, which raises own Slash Res Piercing for 3 turns, then deals Dmg (L) to target.
A unique set of dark-black goggles which greatly cover 2B's right eye. They serve to enhance 2B's motion detection, thermal optics, database cross-referencing, and other functions.

YoRHa Combat Goggles description
Her Trust Master Reward is the YoRHa Combat Goggles accessory, which bestows HP +252, SPR +7, EVA +10 and the Overclock ability, which significantly raises own acquired AP & raises AGI for 3 turns.
Vision cards
[
]
NieR:Automata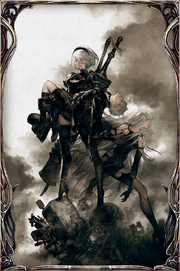 The distant future...
Invaders from another world attack without warning, unleashing a new type of threat: weapons known as "machine lifeforms."
In the face of this insurmountable threat, mankind is driven from Earth and takes refuge on the Moon.

The Council of Humanity organizes a resistance of android soldiers in an effort to take back their planet.
To break the deadlock, the Resistance deploys a new unit of android infantry: YoRHa.

In the forsaken wasteland below, the war between the machines and the androids rages on.
A war that is soon to unveil the long-forgotten truth of this world...

Vision card description
NieR:Automata is a UR-rarity vision card. At Lv. 99, its stats are HP +322, ATK +150 and SPR +4. Its party abilities are Wind Unit Luck Up 35%, Wind Unit SPR Up 8 and Wind Unit Critical Dmg Up 25. Its limited bestowed effects are ATK Up 30% for Wind units only, as well as Slash Attack Res Piercing Rate Up 20 and AGI Up 6% for 2B only. It was illustrated by Akihiko Yoshida.

Gallery
[
]